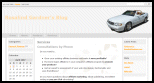 You could be missing out on the easiest, inexpensive and the most obvious way to get traffic to your site.
I was… and I should have known better, as one of the biggest secrets to my success, is no real 'secret' at at all. It lies in the fact that my name, Rosalind Gardner, has become quite popular in the affiliate marketing industry.
Although your name may not yet be that popular, it's still very important to do what you can NOW to promote your own name and use it to drive traffic to your existing site(s).
And the most obvious, easiest and cheapest way for you to do that is to register a domain name in your own name and then Work It!
Here's an example of what happens when you don't take advantage of having a domain name in your own name. I registered RosalindGardner.com back in June of 2002 (BEFORE I wrote my book and before my name was popular) and did nothing with it except …later set up a redirect to RosalindGardner.com. By result, RosalindGardner.com failed to register on the search engine's radar.
So, although a search for 'Rosalind Gardner' garners RosalindGardner.com a first place listing, all but one (SuperAffiliateHandbook.com) of the search results on the first page belong to other webmasters.
How incredibly stupid! I should have worked to OWN the majority of listings on the first page of results for my own name.
Better late than never, so, this weekend I started blogging at RosalindGardner.com, so we'll see how long it takes for it to get the #1 position.
Please don't make the same mistake I made — regardless of your name's current popularity.
Register your name's domain TODAY and use that domain as a business card site that points to your other sites or even as a personal blog monetized with Google Adsense, Kontera, Chitika or other contextual advertising network.
BTW, if your name is taken, use your middle initial or middle name in the domain name and then be sure to use that full name on your site. For example, suppose your name is Richard C. Green. RichardGreen.com is already taken, so register RichardCGreen.com and be sure to use your middle initial in all communications so people think of the 'C' when searching for you or your site.
Once your site is in place – and it won't take long to set up a blog with an About or Product page – when people ask you what you do, just send them to My(Your)Name.com.
Driving traffic doesn't get any simpler than that.