I'm SO glad that readers as me about acceptable use policies so they can avoid getting into legal issues over copyright infringement!
Thankfully, I learned the most important lesson about copyright infringement very early in my Internet marketing career.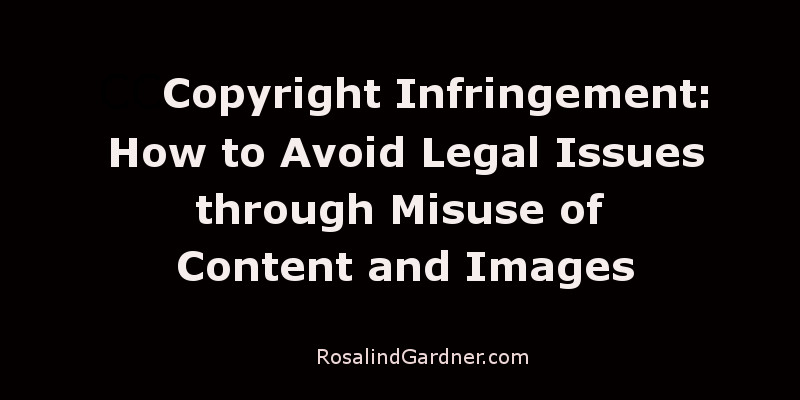 I'd pulled a picture of a very good-looking young man from a dating site (like Match.com) to use on my affiliate dating service review site at 101Date.com.
As it turned out, that wasn't copasetic (legal) in the least.
The good-looking guy was a model and the picture was owned by his agency. The picture shouldn't have been posted publicly by the model himself. His modeling agency's legal representative contacted me by email and demanded I pull the picture immediately or suffer legal consequences for copyright infringement, i.e. theft.
NOTE: The legal penalties for copyright infringement are that an infringer pays the actual dollar amount of damages and profits. The law provides a range from $200 to $150,000 for each work infringed AND the infringer pays for all attorneys fees and court costs.
Never having been on the wrong side of the law and, therefore, quaking in my boots, I pulled the picture from the site immediately.
Since that incident, I've always either used photographs I've taken myself or purchased from a stock agency like iStock by Getty Images.
Becoming the Victim of a Copyright Infringer
After publishing the Super Affiliate Handbook in 2003 and gaining much more publicity for my website, copyright infringers descended on my sites, stealing content I'd written and photos I had purchased.
Although finding copyright infringers is frustrating and represents a huge waste of my time, catching and taking them down is a game of cat and mouse I thoroughly enjoy winning. 🙂
Just recently, a webmaster who stole an article from my blog – including a stock photo that I'd purchased and used as the feature photo – came to my attention through a trackback link. (You gotta love STUPID thieves).
Here's a screen capture of my article about 3 Fabulous Food Bloggers.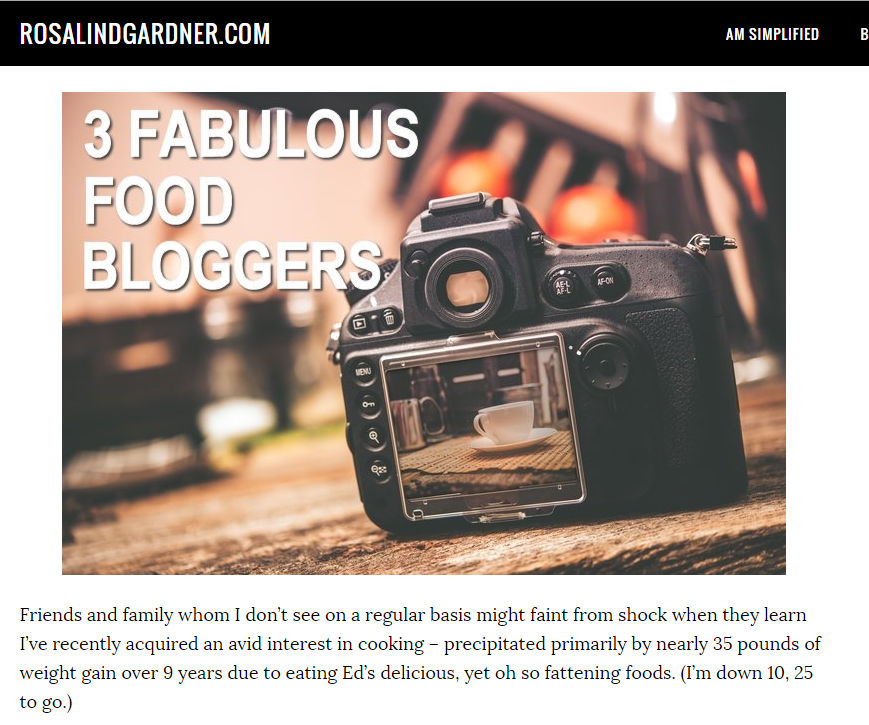 Now here's a screen capture of that article on the thief's blog.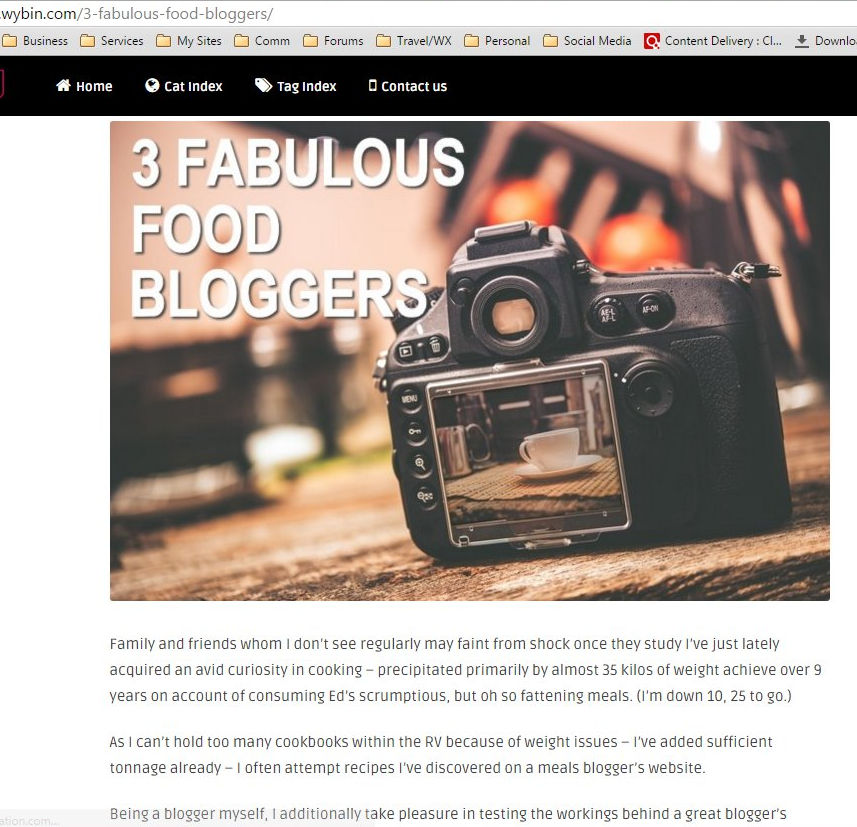 Yup, no doubt about where they (Wybin.com) got that photo and content.
I immediately looked up the domain name through Whois.net and found the name of their hosting service to which I sent a copyright infringement report via email. The stolen article was removed shortly afterward.
This particular thief was tenacious, however.
How to Take a Copyright Infringement Thief Down
Every time I posted a new article, he copied it to his website. Sometimes the articles were published 'as is' and other times they were run through an article spinner, with results that would have made the most basic reader of English cringe.
I sent 2 more infringement reports about articles which were taken down, but then the thief moved his site.
By the way, he wasn't stealing only my articles, he was stealing 100's of articles every day. In one month alone, he'd published over 3,000 articles on his brand-new website. WOW! And the site wasn't 'curated' as such, it was all just stolen material.
Using Whois.net again, I discovered that he'd moved the domain to BlueHost as follows:
Domain Name: WYBIN.COM
Registry Domain ID: 1995310921_DOMAIN_COM-VRSN
Registrar WHOIS Server: whois.bluehost.com
Registrar URL: http://www.bluehost.com/
Updated Date: 2016-02-09T02:18:23Z
Creation Date: 2016-01-18T14:28:41Z
Registrar Registration Expiration Date: 2017-01-18T14:28:41Z
Registrar: FastDomain Inc.
Registrar IANA ID: 1154
Registrar Abuse Contact Email: abuse@bluehost.com
Registrar Abuse Contact Phone: +1 801 765 9400
Reseller: BlueHost.Com
Domain Status: ok (https://www.icann.org/epp#ok)
Registry Registrant ID:
Registrant Name: SIVA BANU
Registrant Organization: HITMAXZ
Registrant Street: POINT PEDRO ROAD, KOPAY JUNCTION
Registrant City: JAFFNA
Registrant State/Province: JAFFNA
Registrant Postal Code: 40000
Registrant Country: SRI LANKA
Registrant Phone: +94.768034687
Registrant Phone Ext:
Registrant Fax:
Registrant Fax Ext:
Registrant Email: NISANTHAN@EMAIL.COM
Registry Admin ID:
Admin Name: SIVA BANU
Admin Organization: HITMAXZ
Admin Street: POINT PEDRO ROAD, KOPAY JUNCTION
Admin City: JAFFNA
Admin State/Province: JAFFNA
Admin Postal Code: 40000
Admin Country: SRI LANKA
Admin Phone: +94.768034687
Admin Phone Ext:
Admin Fax:
Admin Fax Ext:
Admin Email: NISANTHAN@EMAIL.COM
Registry Tech ID:
Tech Name: BLUEHOST INC
Tech Organization: BLUEHOST.COM
Tech Street: 1958 SOUTH 950 EAST
Tech City: PROVO
Tech State/Province: UTAH
Tech Postal Code: 84606
Tech Country: UNITED STATES
Tech Phone: +1.8017659400
Tech Phone Ext:
Tech Fax: +1.8017651992
Tech Fax Ext:
Tech Email: WHOIS@BLUEHOST.COM
Name Server: ERNEST.NS.CLOUDFLARE.COM
Name Server: MEG.NS.CLOUDFLARE.COM
DNSSEC: unsigned
URL of the ICANN WHOIS Data Problem Reporting System:
http://wdprs.internic.net/
Last update of WHOIS database: 2016-02-09T02:18:23Z
For more information on Whois status codes, please visit
https://www.icann.org/resources/pages/epp-status-codes-2014-06-16-en
Same thief, different host.
I sent BlueHost 2 copyright infringement reports on the 6th article stolen as follows:
Attn: Copyright Agent

Pursuant to 17 USC 512(c)(3)(A), this communication serves as a statement that:

I am [the exclusive rights holder | the duly authorized representative of the exclusive rights holder] for the pages created at;
https://rosalindgardner.com/blog/affiliate-marketing-mistake-3-bad-writing/

These exclusive rights are being violated by material available upon your site at the following URL(s):
http://www.wybin.com/affiliate-marketing-mistake-3-bad-writing/
I have a good faith belief that the use of this material in such a fashion is not authorized by the copyright holder, the copyright holder's agent, or the law;

Under penalty of perjury in a United States court of law, I state that the information contained in this notification is accurate, and that I am authorized to act on the behalf of the exclusive rights holder for the material in question;

I may be contacted by the following methods (include all): (my address, phone and email);

I hereby request that you remove or disable access to this material as it appears on your service in as expedient a fashion as possible. 
Thank you.

Regards,
Rosalind Gardner

P.S. This is the 2nd copyright infringement report I've filed about this site. ALL the material on this site appears to be stolen from other bloggers. Would it not be prudent to shut him down and delete the content?
THAT message finally got the job done.
Here is what Wybin looks like today…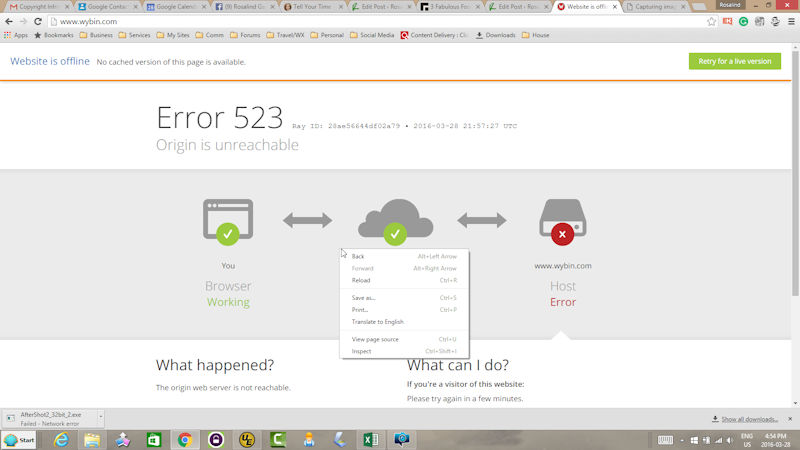 Gone, gone, GONE! The idiot wasted a few months of his time stealing from others, trying to make money. I doubt he made a cent. He had all the social networks in place and I never saw a single Facebook like.
Anyway, the moral of the story is NOT to take content or pictures that don't belong to you.
How to Avoid Copyright Infringement Lawsuits
Stay on the right side of copyright infringement law by:
Writing your own content.
If you like an article and want to share it with your readers, write a short paragraph about what you found interesting and then link to the article. Don't reproduce more than a sentence or very short paragraph of anyone's work without their permission.
NEVER use a picture from another site unless you either have permission, or permission is granted for use on the site. For example, you can often use pictures posted on Wikipedia without having to request permission. Check out Wikipedia's Image Use Policy first, though.
Some sites providing 'free' images require that you post a link back to their website. Be sure to add that link.
Take your own pictures using either your phone or a digital camera. I do this all the time. If you're promoting a product that you use, take a picture of you using the product. That adds a lot more weight and credibility to your review. Here's an example of how I reviewed my Vitamix food processor on my personal blog.
Did you find this post about copyright infringement informative and useful? If so, please share it with others! If you have a comment, question or suggestion, please leave a comment below!
Cheers,