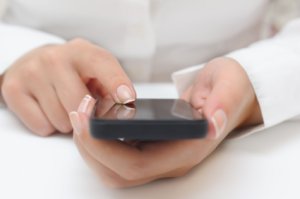 Sending traffic to a merchant site plastered with telephone numbers used to be a total waste of time.
I refused to promote those merchants, regardless of whether they had the best brand reputation in their niche market, i.e. think 1-800-flowers. Granted, that's a little too obvious, but you know what I mean. 🙂
The telephone numbers 'leaked' commissions when a person referred from your affiliate link, chose to order over the phone, rather than buy the product online.
The common term used to describe such commission loss is 'leakage'.
As sales conversions are always much higher with direct customer contact, I couldn't blame merchants for posting their phone numbers.
But the potential for commission leakage is why I personally stopped promoting almost all consumer goods, except through my own drop-shipping arrangements with merchants.
Fortunately, merchants can now both speak to potential customers over the phone AND pay affiliates their commissions due for referrals by setting up Pay Per Call marketing campaigns.
How does Pay Per Call marketing work?
Suppose you have a site about home renovations.
You apply to and join the iHomeExperts Heating and Air Conditioning Pay Per Call program (available on the CJ network), which targets homeowners who want a quote on the installation of a new whole-home heating or cooling system.
The iHomeExperts Pay Per Call program is web-integrated, meaning that they replace their standard telephone number with your promo number when you direct traffic to their website. NOTE: where merchants are NOT web-integrated, you place your promo telephone number on your website (or in an ad or your business card, etc.)
Your referral lands on their page, they phone your promo number and you earn $10.00 per call.
Granted, there are stipulations regarding call duration and quality.
You earn $10.00 per call if the call duration is greater than 2 minutes and 12 seconds long and it must come from the United States.
Too, calls are evaluated for quality, so if you consistently send callers who are not looking for a free quote, your commissions will be reversed.
On the other hand, if the paid calls are legitimate and of good quality, your commissions will remain as posted and you may be eligible for bonuses and an increase in commission levels from iHomeExperts.
From my research, EPC's reported by merchants in the CJ Pay Per Call network are quite impressive. For example, iHomeExperts is currently showing EPC's of:
$121.21 for their HVAC site (heating and cooling),
$200.00 on roofing quotes, and ;
a whopping $333.33 for quotes on vinyl siding.
Pretty nice, eh?
Per call commissions vary considerably, anywhere from $1 – $20 for Direct TV and up to $43 per call with Cura Debt. Likewise call duration and definitions of call quality vary from merchant to merchant.
How well does Pay Per Call marketing work?
Based on reports I've read recently, Pay Per Call marketing works well for those who work at it. 🙂
Adam Viener reported on Revenews that he added a quarter million bucks to his income by driving phone calls. He made no bones about the fact that there was a learning curve involved and that it wasn't all roses, but in the end, the effort ADDED to his overall income.
Robert Duva, co-founder and CMO of RingRevenue, wrote the following in Feedfront magazine:
Top publishers are earning over $75K/month promoting pay-per-call campaigns. Calls are converting 10x better than clicks. Click-through rates improve 5-30% when phone numbers are included in the ads. Advertisers are earning 1.5 to 2x as much for converting calls as they do for online transactions.
I've only just started playing with Pay Per Call myself – since buying the
MMB program (Great course, HATE the name though) – so I have no results to report as of yet. But, like Adam, I know that Pay Per Call marketing will only add to my bottom line.
Quite frankly, although Pay Per Call is still very much in its infancy, it is the future of affiliate marketing. Over the next few years most merchants with affiliate programs will recognize its potential and start their own Pay Per Call campaigns.
Right now, merchants on most of the major affiliate networks offer pay per call marketing campaigns — including Linkshare, the Google Affiliate Network, Commission Junction, ShareaSale and others.
So, for affiliates, the time to get on board and learn how to make Pay Per Call work is definitely NOW.
To that end, I HIGHLY recommend the Mobile Money Bandit course.
Justin Elenburg, the MMB program developer, shows exactly how he managed to "supercharge" his mobile marketing systems to rake in an amazing six-figure income (and more than a $124,000 in a single month).
Moreover, the course was recently endorsed by one of the original Pay Per Call marketing experts — an early and successful adopter of the strategy and one of the guys who taught Justin the ropes.
Check out MMB program today — You have nothing to lose, as it comes with a 100% money-back guarantee. 🙂