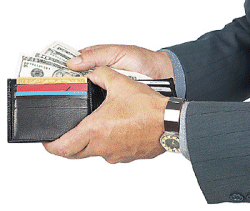 Business is "the exchange of resources for mutual benefit". It's a simple statement of cause and effect.
For a seller, that benefit is profit. Profit is what you get when you sell something for more than it costs you. (Any fool can sell it for less.) Profit is the ONLY result that counts for a business owner, because it's the only thing that allows you to stay in business.
If you don't make a profit, you're not in business at all, by definition. You're in a charity. Sure, the beneficiaries are a little unusual — your banker, your landlord, the media, your suppliers, your employees, etc — but it meets the definition of a charity: the donation of resources for someone else's benefit!
For your buyer, the benefits are twofold – 1) satisfaction of a rational need, and 2) fulfillment of an emotional desire, hope or expectation.
People buy for two reasons only — and always for the same two reasons. So you, as the seller, must always deliver both reasons. You ignore either at your peril. Those two reasons? Their RIGHT reason for buying and their REAL reason for buying.
Their REAL reason is always emotional. It's always about wants. (Hope, desire and expectation). It's always about benefits. And it's always about fulfillment of their hopes, desires and expectations.
Their RIGHT reason is always rational and objective. It's always about needs. It's always about features… the reasons why their real reason for buying will be met. It's always about satisfaction of their rational needs.
Needs are what define markets, but prospects are human beings. They're intensely emotional, which is why their REAL reasons are always first in order of priority.
If not, why would the fashion industry exist? It's pure emotion that has little to do with the core needs of clothing, which are also twofold – 1) Keep us out of hospital (protection from the elements and environment) and 2) Keep us out of jail! (Use your imagination. Or not.)
So why do we spend so much time, effort, money and emotion on looking different? Buying is almost always about emotion, first and foremost.
Here's another example of the difference between right and real reasons.
Your doorbell rings. It's your best friend, so excited they can't stand still. They drag you outside, where you discover a brand new Porsche under the streetlight.
"W-w-w-w-hat possessed you to buy THAT?" you ask.
Your friend replies: "Because my accountant assures me it will increase in value over the next three years. It's a very safe investment!"
Is that your friend's real reason or right reason for buying? And how can you tell with 100% certainty, just from what I've already told you? Let's think this through:
Q. What was their stated reason for buying?
A. It's an investment that will increase in value over time.
Q. Where's the car parked?
A. Outside YOUR house (not your friend's house).
Q. How did it get there?
A. They drove it there. It didn't just materialize there, and it's a safe bet that it wasn't delivered there from Germany. It wasn't assembled outside your house, or you'd have noticed before this, right?
Q. If that was their REAL reason for buying it, why did they just run the very real risk that it might suddenly (and dramatically) DECREASE in value by driving it through traffic?
Why didn't they do the sensible thing and have it stored in a temperature and humidity controlled environment, so there'd be little risk that, in three years' time, it'll still be in mint condition and worth substantially more? (That thing dropped 25% in value the moment it left the dealership!) And another thing: who NEEDS a Porsche?
You only need a vehicle to get you from point A to point B as safely, economically, comfortably, quickly and efficiently as possible, surely? So the "investment" angle is their "right" reason for buying, not their REAL reason.
Q. Where is it parked?
A. Outside YOUR house.
Q. WHY is it parked outside YOUR house?
A. So YOU can be impressed!
Q. So what's their REAL reason for buying?
Is it about how it makes your friend FEEL? (100% emotion.) Or is really about how it makes OTHER PEOPLE — including YOU — feel? See how subtle it can be to tell the difference?
There's a dangerous red herring at work here: where a buying decision is highly emotional (especially when lots of MONEY is involved), their right reason is often their "right" reason. It's not rational at all. Instead, it's a "rationalization" to justify their REAL reason for buying. Pure 'spin'. It's bogus. It's a fake. And it happens all the time! Why?
So that they'll feel SAFE. They won't look foolish or vain or selfish. (Remember the Emperor's new clothes?) But it sometimes gets even more confusing.
Here's a real-life example. My wife asks me what I think of her new outfit. I tell her it looks wonderful on her. Then she hastens to tell me that it only cost $800… BUT she saved $1,000!
Here's the question: saving money… real or right reason for buying? And how can you tell with 100% certainty from what I've just told you?
Here's the crucial clue:
1. It's about MONEY. So it's pure emotion. I mean, money is the single most emotional issue in the world.
(The only people I ever get an argument from about this are bankers and accountants, who insist that they're rational, objective and unemotional about money. But they rarely ever deal with REAL money… CASH. Instead, they deal with NUMBERS — abstract representations of money. Cyphers. Symbols. I'd be unemotional about this dull stuff, too.
If you want the money, you have to leave their offices where the computer screens and printouts are and go where the REAL money is found — along with security cameras, armed guards, alarms, protective shields and other security devices!
Buyers only have control over their own resources. And, as the seller, you're only interested in ONE of their resources… their MONEY.
So it has to be their REAL reason, right?
Well, yes — and no.
2. It's their own money, sure. But when they SAVE money, it's money that they don't spend. They keep it. It's STILL theirs. And that's rational and intelligent behavior. So it's also their RIGHT reason.
So how does this relate to being a successful affiliate?
When you understand peoples' real and right reasons for buying, you can create offers with powerful emotional appeal — and back them up with solid, safe features and rational RIGHT reasons that eliminate any hint of risk for them.
Not just risk of losing their money, but of losing face with others — or in their own eyes.
You can create strategies that reposition a product in a totally different light that solves a real and pressing problem for a particular market.
For example, I recently took a product created to protect digital products from download thieves and repositioned it as a quick, easy, inexpensive alternative for people wanting to create membership sites. Conversions shot up by more than 700%! (And at three times the original price.)
But that's not selling. That's marketing. And marketing is the truly successful affiliate's ultimate secret weapon. The role of a marketer is to identify a need and satisfy it. But there's NO emotion involved here. Just needs and satisfaction.
That's why sellers are so important. Their role is to get people to WANT what they NEED. It doesn't matter how much people NEED what you're offering… until they WANT it, they won't BUY it!
For buyers, though, the most immediate and alarming risk they face is not the price or the product you're promoting.
It's YOU! The seller — and the seller's motives — are their #1 perceived threat. Why are you here, and why are you trying to get me to buy this?
Until you can remove all perceptions of risk presented by YOU, you'll struggle to even get their undivided attention, let alone the sale. If a prospect is worried about what you might do TO them, you'll never get them to see what you can do FOR them.
If you can get people online to want what they need — including the realization that they really need it — then you're well on your way to becoming a Super Affiliate.
People buy for their own reasons, not yours or your merchant's reasons. So learn to discover what those reasons are. Then target them with strong emotional appeals that do much more than exploit and manipulate the prospect's fear of loss.
Warning: Using fear of loss is a public admission by a seller that they haven't got a clue about how to sell. It's the fastest, surest way to boost refund requests due to "buyer remorse"… and get you dropped from the most lucrative programs ("buyer revenge!").
Learn to sell with integrity and intelligence. It's safer, easier, better and smarter, every time.
---
John Counsel is founder of The Profit Clinic and author of "Is it Marketing? Or is it Selling? (And can YOU tell the difference?)", a free Insight Report from http://MarketingMasterClass.net.