How to Turn a Messy Datafeed Text File into a Beautiful Website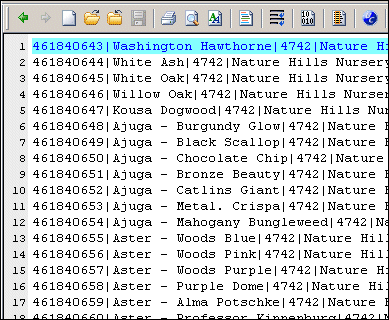 I've been using a variety of affiliate datafeed processing tools and services since I first bought datafeed processing software a number of years ago. I loved how nasty old text datafeeds (either merchant product datafeeds or my own created from Excel / text files) could quickly be turned into pages and pages of content with relatively little effort — or considerably LESS effort than creating static pages one-by-one.
Fortunately, over the last few years, even easier-to-use datafeed processing services have emerged to answer the needs of affiliate marketers. The list below is by no means exhaustive — just a few datafeed integration tools that I've used, like and can recommend.
Datafeed Processing Software
WebMerge
WebMerge by Fourth World Media Corporation allows you to publish datafeeds with templates from any HTML editor on any web server, fast.
Shown right is a screenshot of of a short review page for DLGuard created with Webmerge and pumped through my own template. Note the breadcrumbs, categories and |< First | < Previous | Next > | Last >| section, all auto-generated by the Webmerge software.
It took me awhile to figure out the software and the other downside was that I would have to upload ALL the pages in a folder to the site again if I added a product — just so the < Previous | Next > linking would work properly. Not a real big issue, but something to think about.
Visit WebMerge | Read My Review
Datafeed Processing Services
Several services have popped up to help affiliates incorporate merchant datafeeds into their sites including PopShops and GoldenCan.
GoldenCAN
Launched in May 2005, GoldenCAN was the first affiliate product data feed, coupon and search integration service. It remains to this day one of the leaders in providing easy access to product data to the average affiliate.
GoldenCan is a service that makes it easy to incorporate datafeeds, however the downside is that MANY of their merchants are "4th Click" merchants. That means that when you use a 4th click merchant, you share 25% of your traffic with GoldenCAN. For every 4th Click™ generated from a GoldenCAN Integration towards merchant's web site, GoldenCAN will replace your affiliate site id with its own and subsequently receive affiliate commission should the 4th Click™ convert into a sale/order/lead. The screenshot below shows the output for a travel store I had on my travel blog..
PopShops
PopShops offers up affiliate products from all of the major networks–Commission Junction, LinkShare, ShareASale, and Google Affiliate Network and several smaller ones as well. You can use their service for free to create up to 10 shops using JavaScript. Beyond that, you'll have to sign up for a paid version to get additional SEO tools, product search within your shops, and the ability to manage multiple affiliate IDs within the same network. Output options range from JavaScript snippets, classic ASP and PHP code, XML, RSS, TypePad or Blogger widget and more. What I've noticed with this service is that the graphics are broken about half the time.
Datafeed Processing Solutions by Affiliate Networks
Most of the affiliate networks offer some sort of datafeed processing solutions for their merchants and affiliates. Check out Pepperjam's Store Builder.
Datafeedr
Datafeedr is a slick solution by Stefan Everaet and Eric Busch for WordPress bloggers who want to easily incorporate merchant product datafeeds into their blogs. The service eliminates the requirement to work with flat files (spreadsheets or txt files) or having to share revenue with 4th click merchants.
Shown below is Datafeedr output on the laptop bags page on my Datafeedr travel store.
When visitors click on individual products, a larger image and description is returned on YOUR site, which is great for your SERPs. Too, alternative products are shown below the larger individual products.
Visit Datafeedr | Read My Review
Datafeed Processing Specifically for eBay Affiliates
BANS
Build A Niche Store (BANS) is a store / website development platform which enables you to create content based sites that generate income through the eBay affiliate programs. BANS supports the development of niche stores for the following 11 eBay marketplaces: Australia, Belgium, Canada, France, India, Italy, Netherlands, Singapore, Spain, United Kingdom and the United States and has a user base of over 9,000 worldwide.
The screenshot below is the cruise page of the BANS store on the travel blog.