Based on other marketers' reviews of Article Announcer, I had no doubt that the software worked, and that it worked very well.
So, what I decided to do instead of using a brand-new article to test its effectiveness, was use an already popular article, to see whether circulation could be increased.
Here is what happened.
On September 19th, I did a search for my article "Broke, Desperate and at the End of Your Tether?" and discovered that there were 149 instances published around the 'Net.
Here is the graphic image of that result.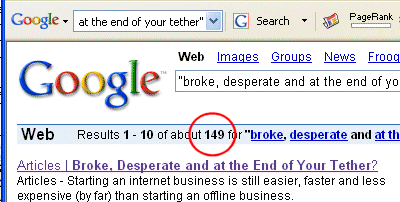 Next, I opened and learned how to use Article Announcer for the first time.
Too busy packing for my trip to China, I didn't make full use of all the software's capabilities, and chose to announce my article ONLY to article directories, NOT to announcement lists or ezine editors.
Just 4 days later, on September 23rd, here is what I discovered.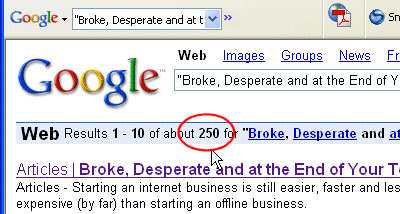 Yes, that's right. An additional 101 occurrences of the article had appeared in only 4 days!
Just think how much better my results would have been if I'd used Article Announcer's full capabilities and submitted to announcement lists and ezine editors.
As of writing, the article shows 199 results, but that's still incredible! I still gained 50 links from about 45 minutes worth of work.
Now that I'm back from my trip, I will be using Article Announcer to publish both my old and new articles across the 'Web, to gain free and easy exposure.
Too, as I'm now setup to use the software, it won't take me nearly so long to pump out those announcements… not that I'm complaining about having spent a WHOLE 45 minutes the first time! LOL.
In addition to a huge selection of editors, directories and lists to which you can submit, you can add your own resources as you find them.
What I appreciate most about Article Announcer however, is that it helps drive FREE TARGETED TRAFFIC to your sites, and will boost your sites' rankings without using stupid SEO tricks that are guaranteed to peter out over time.
And if you don't like to write your own articles (or as Jason puts it, "If you'd rather stick a fork in your hand than write"), he also shows you how to "scope out the best article freelance writers… without getting lied to, screwed or burned by hiring the wrong person!"
In my humble opinion, Article Announcer is one of this year's most useful and valuable software products. HIGHLY recommended!