How to get tons of free traffic to your site through article marketing…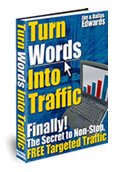 Do you need more traffic to your website?
Do you want to get more FREE traffic to your website?
In a recent survey over 91.3% of subscribers said they wanted to know how to get MORE traffic to their websites and their affiliate links.
They also said they wanted to know how to get that traffic FAST *and* they didn't want to (or couldn't) pay for it.
If you want to increase traffic to your website for free, Jim and Dallas Edwards' ebook "Turn Words into Traffic" will help you do just that.
The system is simple.
You write and distribute your free articles all over the Internet, that includes your byline and a link back to your site.
Think you can't write or that you're not expert enough to write an aritcle?
Think again!
In addition to getting a step-by-step guide to writing articles to promote your web site, you'll also learn how to find topics with high profit potential.
Jim and Dallas also share information on how to submit your articles to ezine editors, website owners, article announcement sites, and the search engines.
Here's what one of the most popular and trusted authors on the Internet had to say about "Turn Words into Traffic":
"If you think you know it all when it comes to using articles to get more visitors to your site – think again!!

I thought I did too until I read this work. You better bet I'll be using a few of these sweet techniques to build my online business to new heights. Heck, why not – it's free and it's some of the best traffic you can get to your site. I say grab this ebook now before everyone else does!"

-Yanik Silver, Author – "Instant Internet Profits"
Discover a website traffic "machine" that generates visitors for weeks, months, even years… without spending a dime on advertising.
Click Here Now to learn more about Turn Words into Traffic