If you sell a downloadable digital product such as an ebook or software, you already know about the risk of having your products stolen from your own download pages.
I read somewhere that it's been estimated that more than 50% of all ebooks and software in use are copies that have been stolen, and most of those were stolen right from the merchant's download page.
It makes me really angry to think of all the hard work that we put into product creation — only to have it stolen by some jerk without scruples.
Not only is it frustrating, but the loss can become very costly.
For example, even if only one book is stolen each day that would otherwise have been purchased for $47, that's $17,155 per year that you don't get to play with.
So… when I finally clued into the fact that my book was being downloaded for free by thieves, I got smart and got a download protector.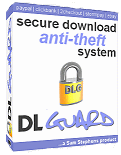 I use a product called DLGuard to protect my Super Affiliate Handbook and other digital information and software products from being downloaded for free by thieves (who unfortunately ABOUND on the 'net), and have been absolutely thrilled with both it and the service that Sam Stephens provides.
On the DLGuard site, Harvey Segal comments, "The last time I tried to implement a download management solution I gave up after page 42 of a huge complex manual. With DLGuard it was ridiculously easy to install and then to run. Add to that Sam's superb customer support and constant innovation and it's an easy decision to purchase."
What can I say but "ditto, ditto, and ditto"… and that was WITH technical support!
Sam's system is easy to install, and better yet, if you have script installation phobias like I do, Sam is always right there to lend a helping hand… barring a bit of a time lag seeing that he's on the other side of the planet.
Here is a screenshot from one of my DLGuard installations that shows the Adminstration Panel.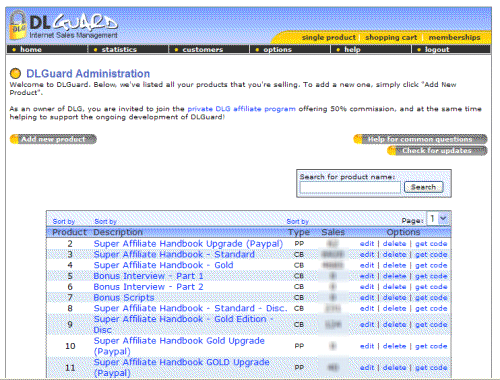 Product features include:
Secure single product sales
Built-in shopping cart
Create Membership sites
Expiring download links
Limit download attempts
Offer promotional coupons
Calculates sales conversion rates automatically
Template based for easy customisation
Automatic mailing list sign-up
Integrated with the major payment systems
DLGuard is also fully integrated with the following payment systems:
Paypal
Clickbank
2CO
WorldPay
Authorize.net
AlertPay
PayDotCom
eBay
e-Gold
This is truly one great script and a MUST-HAVE for anyone who sells digital information products and software online.
Check out the DLGuard site right now and start protecting your products from thieves today.