Do your blog readers hang on your every word? How often do your messages get retweeted? What are your most influential topics?
Want to find out? Check out Klout.
Klout tracks the impact of your opinions, links and recommendations across your social graph. They collect data about the content you create, how people interact with that content and the size and composition of your network. From there, they analyze that data to find indicators of influence and then provide you with innovative tools to interact with and interpret the data.
Klout measures overall influence through 25 variables broken into three categories; True Reach, Amplification Score and Network Score.
For example, Network Influence is the influence level of your engaged audience. Engagement is measured based on actions such as retweets, @messages, follows, lists, comments, and likes. Each time a person performs one of these actions it is a testament to the authority and the quality of your content. Capturing the attention of influencers is no easy task, and those who are able to do so are typically creating spectacular content. Network Score looks at the Klout score of each person who interacts with you to determine:
How influential are the people who @ message you?
How influential are the people who retweet you?
How influential are the people who follow you?
How influential are the people who list you?
How influential are the people who follow the lists you are on?
Factors measured: List inclusions, Follower/Follow Ratio, Followed Back %, Unique Senders, Unique Retweeters, Unique Commenters, Unique Likers, Influence of Followers, Influence of Retweeters and Mentioners, Influence of Friends, Influence of Likers and Commenters.
Anyway, according to Klout I am a Thought Leader in my industry. I appreciate the designation. Can't think of another that I would rather be.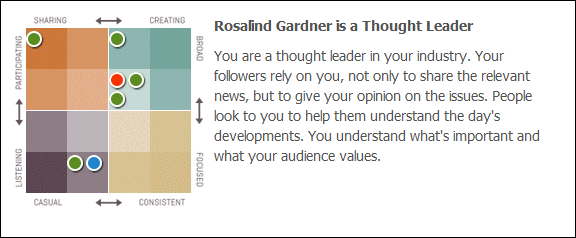 And what is your Klout Classification?
Check out Klout to find out.
P.S. Thanks to Geno Prussakov of AM Navigator for his Most Influential Affiliate Summit West 2011 Speakers – Top 40 which tuned me into Klout.