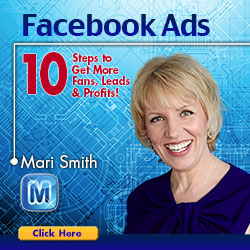 This is a FREE WEBINAR with Mari Smith on October 30th that will be stream through my Facebook Fan Page. Just click that Like button to sign up!
If you're frustrated with trying to figure out how to work with ads on Facebook, I highly recommend that you join this two-hour session with Mari – she says it's going to be EPIC! Over 5,000 people around the world have already signed up for Facebook Ads: 10 Steps To Get More Fans, Leads & Profits!
FINALLY, you'll discover the exact steps to:
build a solid Facebook marketing plan that won't break the bank, and;
create, place and track ads on Facebook that get RESULTS!
Good news: You don't need to spend a fortune. Even with just a nominal ads budget, Mari will reveal her 10-step process that will instantly help you to:
boost your reach through both organic and paid methods that actually work
build your fanbase with targeted prospects
attract tons more qualified leads
easily convert those leads into top paying clients, and
ultimately make a LOT more profit in your business!
If you want to tap into the incredible power of Facebook as part of your business marketing activities, you can't learn from anyone more knowledgeable than Mari Smith. I highly recommend that you check out what she's offering here, and see if it fits your plans to crank up the volume on your business.
Register now for Facebook Ads: 10 Steps To Get More Fans, Leads & Profits! taking place on October 30th with my friend Mari Smith – top Facebook marketing expert!
P.S. Remember, go now to save your seat on this mega Facebook Ads webinar. I'm sure you'll love it. I look forward to seeing you there.