Do you have a dating site or niche community web site where folks interact for the purpose of meeting, exchanging ideas… having fun?
If so, here's a fun survey from eAdvertising that you might want to add for some fairly easy money.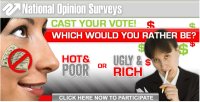 In addition to the "Which Would You Rather Marry?" title caption, you can choose between "Which is Better… Hot and Poor or Rich and Ugly?", "Cast Your Vote… Which Would You Rather Be?" and a few others.
Eligible survey participants receive a $100 Visa® Gift Card.
This offer pays $1.00 per lead.
So, which would you rather be? 🙂
Cheers,
Ros