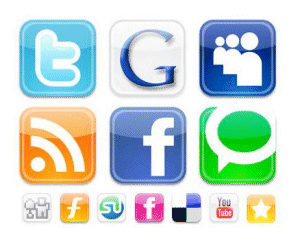 Back in the early 2000's, I used to spend tens of thousands of bucks every month on pay per click advertising – now I spend almost no money on PPC.
How is that?
Social media marketing!!
Man Internet marketers use social media marketing to grow their businesses likewise.
For example, Michael Stelzner (the guy who wrote the book on white papers) founded a site called Social Media Examiner.
He relied 100% on social media tactics to drive traffic to his site.
In less than 5 months, he was declared the #1 small business blog in the world by Technorati, added more than 13,000 email subscribers, brought nearly 100,000 people a month to his site and is ranked as one of the top 4700 websites in all of America by Alexa.
He didn't advertise, didn't rely on the press and almost none of his traffic is coming from search engines.  Nearly overnight, his site has become a top destination for businesses.
This all took place via social media. He simply leveraged the power of sites like Twitter, Facebook and LinkedIn to deliver the kind of results that would've cost him a fortune in the past. He didn't spend a dime on marketing, just his time.
Social media is the new marketing frontier because it bypasses all the costly middlemen and allows you to rapidly connect with your customers and prospects! AND this presents an enormous opportunity for you.
SO WHAT'S THIS ABOUT?
By now you've probably heard the buzz about Social Media Marketing World happening in San Diego on April 7, 8 and 9, 2013.
Michael (and his team) have been working for months to bring the best minds in social media marketing together at Social Media Marketing World.
The conference includes more than 49-expert led sessions from the biggest names in social media marketing. It takes place at the waterfront San Diego Marriott Marquis & Marina. It includes a private networking cruise on the largest private yacht in Southern California and much more! Presenters include Guy Kawasaki, Mari Smith, Chris Brogan, Sally Hogshead, Dave Kerpen, Michael Stelzner, Jay Baer, Amy Porterfield, Mark Schaefer, Jesse Stay and experts from Walmart, Zappos.com, Sony Electronics, TaylorMade Golf and SAP; as well as Brian Carter, John Jantsch and Mitch Joel–just to name a few. Together this team of "who's who" in social media will help you succeed using practical tactics.
BTW, you don't need to be a techno-geek to use and benefit from social media. You might be surprised to learn that most social media marketers are aged 30 to 60 and have only been using social media for a few months. In fact, even traditional businesses like Ford Motor Company, Clorox and State Farm Insurance are heavily focused on social media. This is not some "young kids" phenomenon.
The focus of the conference is to empower you to build social media marketing plans, track your social media results and learn from other successful businesses. You'll also discover how to use Facebook, Twitter, LinkedIn, YouTube, Foursquare and Groupon to attract high-caliber customers and grow your business during this economic slump.
Not only can you gain amazing exposure for your business with social media marketing, you'll also generate traffic, increase sales, gain qualified leads and build new partnerships.
Here's to your social media marketing success!
P.S. – Early bird pricing ends Friday March 8, 2013.
P.S.S. – Last but not least – if you can't attend the conference, you can pick up a virtual ticket.
Comments, questions or suggestions? Please leave a comment below!
Cheers,