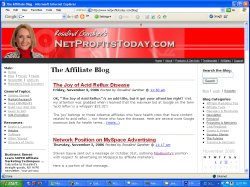 So, what do you think of the new site design for Net Profits Today?
Like it? Hate it? Let me know!
I went to a 100% wide 3-column design because I read at OneStat.com that "the screen resolution 1024 x 768 has reached an all time high and has risen from 48.3 percent in June 2003 to 54.02 percent " and I wanted to take advantage of the extra width.
The template looks right for those still using 800 x 600, because the header graphic is only 774 pixels wide. The background image just makes it look like it is as wide as the entire screen.
By the way, the header is a composite of a background from a BoxedArt.com template and my pic, morphed in Paint Shop Pro. Pretty easy to do, actually.
I still have work to do – in preparation for a new CMS (content management system) that I'm currently testing for implementation throughout the site. Can't wait to share the experience with you as it looks like it might be the answer for those HTML-phobic newbie affiliates. 🙂