Sometime ago, I received several email complaints that links in my newsletter and on the site were triggering DOWNLOADS of the linked pages to a "temporary directory" instead of opening NPT in the Firefox web browser.
This is what it looked like: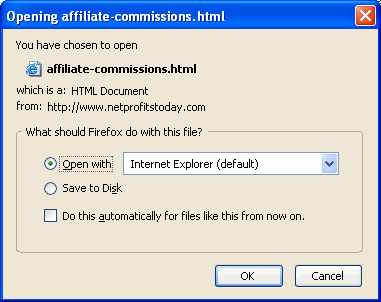 Note, this was ONLY happening in Firefox.
The links were all formatted correctly so I spent a number of hours going back and forth with different folks, then on the Firefox support forum. None of the suggested solutions worked.
Finally, I passed it on to Steve Hetrick, the braniac over a DataWebPro who runs my servers, and he had it resolved lickety-split.
Solution – he added the following line of code to my .htaccess file.
Action application/x-httpd-php "/php/php-cgi.exe
I was lucky to get those comments from site visitors about the Firefox issues, otherwise I wouldn't have known.
Have you checked your site in the Firefox browser lately?
Cheers,
Ros