I love attending Affiliate Summit West, held yearly in January or February in Las Vegas.
Catching up, hanging out and sometimes lazing around with my "Internet friends" – as Ed calls them – is a big part of the enjoyment.
From left to right in the picture above are Lisa Picarille former editor of Revenue Magazine who just got a deal to co-author the book, "Your Pitch Sucks" with Jim Kukral; Todd Farmer founder of Kowabunga!, now CEO at PerformStreet Media; Joe Sousa whose dad Frank (a dear friend of mine who was also outside enjoying the night air and sparking political discussions with me) runs TrafficGeyser; and yours truly, Rosalind Gardner.
Prior to our presentation on Sunday about video marketing, I had breakfast with Jeremy Palmer, one my most trusted and respected friends in the affiliate marketing industry.
With Jeremy, I can always count on free sharing of good information about what is and what is not working for him, despite the fact that we are supposedly competing Super Affiliates. That's one of the things that I totally love about this industry – competitors actually share and help one another.
After the presentation, I headed to the Meet Market which has become absolutely HUGE. So big in fact that I had time only to do one side of the big room before it shut down at 6PM.
Of course, stopping to talk with the original Twitter guy, Warren Whitlock, (whose Twitter Revolution: How Social Media and Mobile Marketing is Changing the Way We Do Business & Market Online was published long before Joel Comm published Twitter Power: How to Dominate Your Market One Tweet at a Time) was so totally engrossing and informative that the next thing I knew, they were shutting the Meet Market down.
Warren truly GETS Twitter in a way that I didn't before appreciate and I thank him for his graciousness in conveying its value, in a way that hit home – emotionally.
He's GOOD.
One of the most informative conversations I had was with my old buddy, Andrew Wee, who has a few articles in the new book by Shawn Collins and Missy Ward, Internet Marketing From The Real Experts.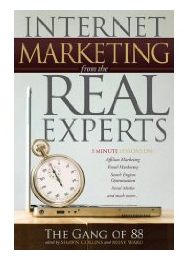 The book was included in attendees' swag bags and consists of a number of 3-minute lessons about affiliate, email, search engine and social marketing. If you're looking for a collection of short, to-the-point lessons, this could be a worthwhile book to add to your Internet marketing library.
Attending the Canadian Affiliate Meetup later that evening, arranged by my neighbor Peter Koning was a total blast.
I in turn invited the Martell's via a comment on their post about ASW10 to join our gathering and it was a pleasure to finally have the opportunity to sit down and shoot the day-to-day with them and offer Arlene congratulations on a very special upcoming event in their lives. (James, a blogging tip. Reciprocal link love, i.e. Comment / trackback approval is nothing to be afeard of, it actually helps your rankings. 🙂 )
As much as I love to get duded up for Vegas parties, I stayed in my Maple Leafs jersey after our Canadian event and went to Brian Littleton's ShareaSale party, where it (the jersey) proved to be a big hit.
Lesson learned again – be different to attract attention if you want to talk to more people, especially if you're shy like me and have difficulty striking up conversations with relative strangers.
Another lesson learned.
No matter how good your intentions are to hit the hay before midnight at the Affiliate Summit – don't count on it. I was at the Shutter's Bar alternating between Sam Adams, "Newcie's" and water until 4AM… and a good time was had by all.
On Monday, I attended the Affiliate Showcase, a new venue at Affiliate Summit for merchants to meet up and pitch their products to Super Affiliates. That was very cool. As much as I can't yet divulge which offers I've decided to run (you'll see them on my sites in time), let me say that I was particularly impressed with WhiteSmoke — a very helpful product for bloggers and writers that I've been playing with for the last little while.
At the Affiliate Showcase, I was also thrilled to finally meet Michael Webb, THE Romantic. I've known of Michael since I started affiliate marketing and was tickled to learn that he and I share a very similar perspective on the work we do — it's all about helping people and enjoying time with our friends and families. (Take the hint).
A short chat with any of the folks mentioned above leads to wonderful insights and a deeper understanding of our industry.
However, as much as I love catching up with friends' business and family situations as well as entertaining new offers, I most enjoy meeting new people, particularly those who are new to affiliate marketing and are totally excited about the prospect of getting involved in our industry.
They should be excited – especially those who have done their homework fully and understand the opportunity that lies before them.
In that regard, BIG shout-out's to Joan Miller and Kevin McIsaac, who totally have their heads on straight about where they want to go with this opportunity.
A special shout-out to Rob McFaul, who of all the people I met on this trip, has researched and understands the industry so well that I refused to let him refer to himself as a 'newbie'. I know Rob will do extremely well once he gets a website up (that's a BIG hint) to which I could have linked from this post.
OK, I confess, he's a Torontonian (Canadian) who shares my penchant for good beer and RVing, so he might have had a ready-made 'in'. 🙂
Bonus kudos to the 'enthusiastic newbies' I met, who, unlike me, attended most of the sessions — which is HIGHLY recommended for newbies until they attain Super Affiliate status and are invited to participate in the Affiliate Showcase sessions. 🙂
But make no mistake, I WILL watch the sessions on video. Every day, like every person you meet, is a learning opportunity.