How would you feel if the air traffic controller responsible for your flight was having a heated argument with his wife on the phone at the same time he was supposed to be safely separating your flight from others? You might start looking for that parachute, right?
You don't have to worry. Those scenes from 'Pushing Tin' were fictional.
Air traffic controllers have more sense than that. They also have rules that prohibit such distractions, despite the fact that air traffic controllers are some of the world's most exceptional multi-taskers. (Note: Only 2% of the population has sufficient ability to 'see' and process a rapidly-changing multiple-dimension 'picture' to qualify for the job.)
OK, now imagine yourself in a car moving at 60 to 70 miles an hour which is merely feet away from a number of other vehicles travelling at different rates of speed. Then add one distracted driver – who isn't qualified to talk and chew gum at the same time, let alone control a speeding mass of metal – and what do you get?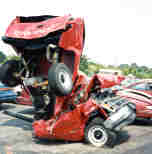 Children without parents.
Unlike ATC, which has separation standards and therefore gives time for aircraft to manoeuver; driving accidents take but a split second to happen. Furthermore, aircraft have TCAS (Traffic Collision and Avoidance Systems) in place to warn pilots when they are too close to other aircraft. The software tells them which way they should go to avoid the collision AND, pilots have the option to go up and down in addition to left, right, speeding up and slowing down.
Cars don't have collision avoidance systems and they move only in the horizontal plane.
OK, so you can tell which side I take on the issue of cell phone use while driving. I was therefore relieved last week to hear that Governer Arnold Schwarzenegger signed a bill requiring California drivers to use an ear piece or speaker when using their cell phones, beginning July 1, 2008. A first offense will be punishable by a $20 fine, while subsequent violations will carry $50 fines. Calls made to emergency-service providers are exempt.
I don't think he went nearly far enough.
While driving the 101 from San Francisco to Carmel, California last week, it was only too apparent which drivers weren't paying attention to the road. The cell-phone users were bobbing and weaving all over their own lanes, as well as mine.
According to California Highway Patrol statistics dating to 2001, cell-phone use is the top cause of accidents triggered by distracted drivers.
No kidding.
Worse, cell phone distraction causes 2,600 deaths and 330,000 injuries in the United States every year, according to the publisher of the Human Factors and Ergonomics Society.
2,600 deaths and 330,000 injuries attributable to cell phone use while driving and they think that estimate might be low!!!
If it wasn't for those drivers who DO pay attention and take evasive action to avoid collisions with those who think they own the whole freakin' road, the carnage would have forced legislation with real teeth years ago.
Speaking of years ago… hands-free technology has been around for at least the last 28 years, which was when I first recall seeing a car phone equipped with a hands-free kit.
Anyway, because I care… if you feel that you absolutely must use a cell phone while driving, I implore you to take action now, and get a hands-free car kit. They're cheap like borsht and available everywhere, so there's no excuse to wait until 2008.
Check out the cell phone accessories at the Cell Phone Shop
or Wireless Emporium where you'll get up to between 75 and 80% off plus free shipping.
Otherwise, hang up and drive safe! Do it for those you love.
Cheers,
Ros