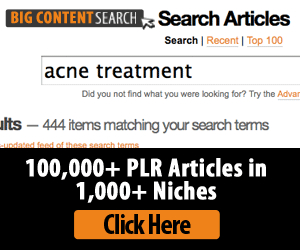 Big Content Search gives its members access to more than 100,000 PLR articles in over 200 niche markets.
The brainchild of Europe-based company, NiteoWeb Inc., this PLR search engine is trying to be the one-stop-shop for every internet marketer's PLR needs.
For those new to Private Label Rights (PLR), PLR allows you to claim ownership of content produced by someone else. You can do anything you want with the product — tweak it, bundle it, sell it — it's up to you how to maximize it to its full profit-making potential.
What sets Big Content Search apart from some other PLR sellers is its search and filtering feature that makes the job a little less time-consuming as the hassle of browsing through folder after folder is eliminated.
All you need to do type your keyword in the search bar, hit search and you'll be presented with a plethora of keyword-related articles to choose from. As an icing on the cake, Big Content Search also allows direct 'spintax' article download.
Internet marketers who want to build their niche sites faster can grab PLR content like a kid grabs candy. Instead of laboring over the computer hour after hour churning up the content yourself, opt for PLR content instead. And what better place to do it than at a place that has done away with a major PLR drawback – pre-packed PLR filled mostly with content that you don't really need.
As proof, below are some testimonials by satisfied customers, all of which are real, on file and verifiable.
Nice! I have just signed up, done a few searches and very happy with the number of articles returned on my niches. I have already wasted many hours sourcing info – the search function makes it quick and easy.
– Scott Parker, Australia, from Warrior Forum
[…] and having a spinner built in put's even more icing on the cake! For people who do not have their own spinner this will help out a LOT! And for people who do have their own spinner, this will save time because you can have it spin, put the articles in a zip that you easily and quickly download.
– Richard J., USA, Las Vegas
See more testimonials on Big Content Search website.
Big Content Search gives importance to quality as much as being innovative.
Coming up with new and handy features to add to its already very colorful toolbox is just one of the best things about the site. To ensure quality content, SPAM filtering and adding of fresh PLR articles are done regularly.
I'm running a few of their articles on my sites already.
Check out the Big Content Search search engine for three days for only $1 and see for yourself.