Curious about pay per click search engine marketing?
Here are some of the most common questions that I regularly answer on the topic:
What is Pay-Per-Click Advertising?
Pay per click (PPC) is an web-based advertising model where advertisers only pay when a user actually clicks on an ad to visit the advertiser's site.
Advertisers bid on keywords and keyword phrases and when a search engine user types searches for a term matching one of the advertiser's keywords, their ad may be displayed under the 'sponsored listings'. In the screenshot below, sponsored listings returned for the phrase 'Flip video camcorder' are outlined in red.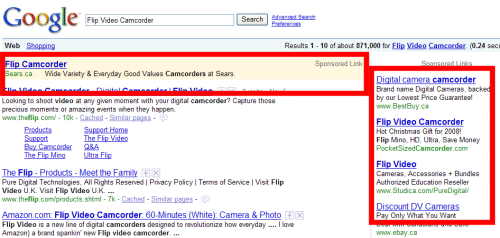 The cost to advertise on PPC search engines varies according to the amount of competition for a specific keyword phrase.
Google AdWords, Yahoo! Search Marketing, and Microsoft adCenter are the largest providers of pay-per-click advertising opportunities.
Does Pay Per Click Advertising Really Work?
Q. I noticed that you are currently advertising your web site on Yahoo! Search Marketing. I am thinking about using Yahoo! Search Marketing to advertise my company, and I was wondering how Yahoo! Search Marketing has produced for you. Are you generating leads, sales and traffic from Yahoo! Search Marketing and other PPC search engines?
A. I think pay-per-click search engine advertising has been an absolute gift to Internet marketers! 🙂
What could be easier than to list specific keywords and phrases that your potential customers are searching for anyway, and be able to pay as little as a few cents per click to have them visit YOUR site?
I've been using Yahoo! Search Marketing as a traffic generation tool since 1998 — STILL do — and yes, a HUGE portion of my traffic, leads, and sales originate from my Yahoo! pay-per-click advertising campaigns.
I particularly appreciate Yahoo! Search Marketing (as opposed to Google Adwords) because it appeals to a slightly more mature demographic which fits most of my niche markets well.
But as for PPC marketing in general, I use a variety of different search engines to drive targeted traffic to my various sites and at different costs.
I think that the greatest benefit of using PPC marketing to drive traffic to your site is both speed of delivery and the fact that you can worry less about search engine optimization or other ways of driving free traffic to your sites — which ultimately means spending less time working on your marketing strategies and more time for you!
Should I Bid the Top Spot?
Q. Would it be a good idea to for me to pay top dollar to be at the top?
A. Being in the #1 spot on a pay-per-click search engine doesn't guarantee sales. It just means that you are likely to receive more traffic than advertisers farther down the list.
To determine whether it's worth spending big bucks to be near the top you have to know and understand conversion rates, ie. How many clicks does it take to produce 'x' number of sales? What is your return on investment?
For example, if you make two sales per hundred visitors, then your conversion rate is around 2%. If your revenue per sale is $10, then paying 20 cents per click would completely negate your earnings.
REVENUE – 2 X $10.00 (revenue/sale) = $20.00 EXPENSES – 100 (clicks) X .20 = $20.00 NET – $0.00
However, if your cost per click remains the same, but either your conversion rate or revenue per sale increases, then it might be worth paying 20 cents per click (in this case).
You need to work with your variables and test, test, test your campaigns.
Decide what percentage return you want on your investment, then work the numbers to make that happen.
How Many Keywords Do I Need in a PPC campaign?
Q. You mention that most of your traffic is from pay per click search engines.
How many keywords is necessary to become successful? How many do you have for sage-hearts.com? (I already use Yahoo! Search Marketing and I would think that the fierce competition would demand that I have thousands of targeted keywords.)
A. When it comes to keywords and pay-per-click advertising, I've found that it's definitely a case of 'the more the merrier'.
For sage-hearts.com, I advertise about 2500 different keywords and phrases at Yahoo! Search Marketing. I also advertise that site on several other PPCSE's. In addition to wide exposure, having many keywords allows you to 'dollar cost average' your bids.
For example, if you pay 30 cents for 1 keyword, and 5 cents for another, and both receive about the same number of hits, your average cost has just gone down to 17.5 cents per visitor.
The trick is to bid on highly targeted keyword phrases (long tail keywords) at relatively low cost.
The best way to dollar cost average is to run numerous campaigns across different pay per click search engine accounts. The following 3 PPCSE's are the most popular and will therefore drive the most traffic.
For PPC account deals and discounts, read FREE Pay Per Click Search Engine Traffic.
Where Do I Find Merchant Keyword Lists?
In a comment on How to Use the Buying Cycle to Choose PPC Campaign Keywords, Carolyn asked "Does every merchant give you a list of keywords you can use? I've never noticed these on linkshare or on cj. Can you tell us where they list these?"
Different networks and merchants handle their keyword rules differently. For example, on Commission Junction you'd click on the Advertiser Detail link, find the Keyword Link under Get Links and then click on Get HTML as shown in the next 2 screenshots.
How Do I Do Effective Keyword Research?
Q. Do you have any suggestions for doing effective keyword research?
A. Keyword research is critical both to determine profitable markets and to create web pages that get listed in the search engines and then found by visitors.
There are several articles that pertain to keyword (and market) research in the Find Your Niche section of NPT and I recommend that you first read Niche Market and Keyword Research.
For keyword research, I use both the Google AdWords Keyword Suggestion Tool and WordTracker.
I particularly like WordTracker as it provides me with daily search estimates and lets me 'drill down' to the longest of the long tail keywords… just 2 of the many features that the service offers.
Here is an example of the keyword phrase 'dog training' dug to the first depth using Wordtracker's Keyword Universe tool:
Click the image to see the full size image.
Click the image to see the full size.
Notice the little shovels? You click on those to go deeper and into each keyword phrase. For example, 'dog training equipment' produced the following keyword phrases (Count & Predict included_:
dog training equipment 31 38
dog training equipment in texas 6 7
police dog training equipment 4 5
Dog Training Equipment Dog Fence And Ring 2 2
guard dog training equipment 2 2
'Searches' is the number of times the keyword has appeared in the Wordtracker database over the last 90 days. 'Predict' is Wordtracker's prediction of the number of times the exact keyword will be searched for in a 24 hour period across all search engines.
With the Keyword Researcher, you can evaluate the number of results that appear when you search for the exact search term and check the 'Google KEI' — the keyword effectiveness index for Google.. 'Google 24 hr Predict' is Wordtracker's estimate of the number of times the exact keyword will be searched for on Google.
The real trick is to go as deep as you can go, while still getting a fair number of searches without TOO much competition.
Wordtracker offers a free trial of their service at WordTracker or, you can read my Wordtracker review.