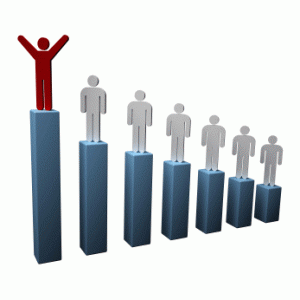 NOTE: The Scribe SEO plugin is no longer available.
I never write content specifically to get search engine placement and it's something I never want to do.
My blogs are for real people like you who would quickly decide that I no longer deserve their business if I were to write like an SEO optimizer instead of just being myself and writing as I do.
Seriously, no reasonable adult takes a blogger seriously when they start a post with "Want better search results? Then get better search results by targeting the search engine results pages with better SEO. You can improve your SEO…" blah, blah, blah.
Boring and obvious.
But due to my refusal to even consider SEO when I write, my blog posts probably don't rank as highly as I would prefer for the topic that I'm writing about.
The posts generally get traffic because I use a multitude of other promotional methods — i.e. social media, Feedburner, Aweber, etc — but Google does not frequently reward my efforts with 1st page listings.
That's about to change, however.
During a conversation with one of our Affiliate Blogger PRO members, I learned about Scribe SEO, a tool for affiliate bloggers like myself who prefer to write for readers than search engines.
Scribe SEO is a plugin with an online interface that shows you exactly how a proposed post will fare in terms of keyword effectiveness.
For example, I plugged an existing post from my travel blog into the Optimizer Content Analysis tool and this is what I saw…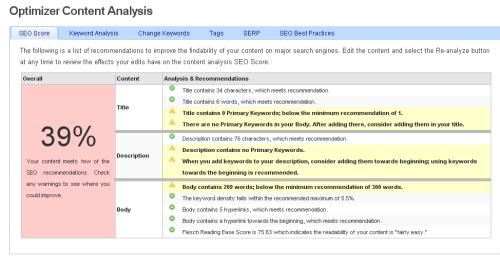 UGH!!! A 39% SEO score overall.
Your content meets few of the SEO recommendations. Check any warnings to see where you could improve.
No doubt.
All the stuff in yellow was where the post was deficient, such as:
Title contains 0 Primary Keywords; below the minimum recommendation of 1.
There are no Primary Keywords in your Body. After adding there, consider adding them in your title.
and…
Description contains no Primary Keywords.
When you add keywords to your description, consider adding them towards beginning; using keywords towards the beginning is recommended.
Then Scribe SEO picked what appeared to be my primary keywords…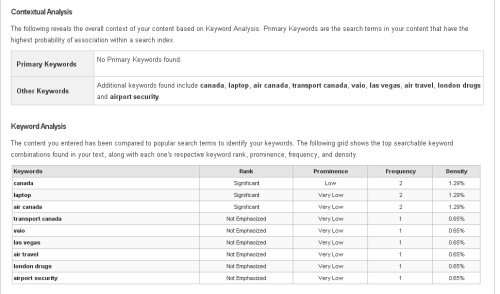 Primary Keywords – No Primary Keywords found.
Other Keywords – Additional keywords found include canada, laptop, air canada, transport canada, vaio, las vegas, air travel, london drugs and airport security.
Um… those weren't exactly what I was going for.

Then it made a bunch of suggestions on how I could make those keywords more prominent…
To make canada, laptop and air canada Primary Keywords, add them to the beginning of your Title and Description. Re-analyze to see the new Keyword Review.

To make transport canada, vaio, las vegas, air travel, london drugs and airport security Primary Keywords, add them to your Title and/or Description and add it more frequently to your Body content. Re-analyze to see the new Keyword Review.
The software also suggested Tags that I could add…
The following is a list of semantically relevant terms that have been identified within your content. Consider adding these terms to your post tags.

Next it showed me an example of how my content may appear within a Search Engine Results Page. The SERP item is comprised of the first 72 characters of your title and the first 165 characters of your description. Therefore, if important words are cut off in the SERP sample below, edit your headline and description accordingly to move the important words, for example Company Name, to the front of the sentences.

Lastly, it gave me a tutorial on SEO best practices.
One of the most significant items (as far as I'm concerned) is the incorporation of the Flesch Reading Ease Score – one of the best-known and most popular readability indicators.
The formula rates text on a 100-point scale based on the average number of syllables per word and words per sentence. The closer the score is to 100, the easier the content is to read; the closer the score to 0, the more difficult the content is to read. In general, a score below 30 is considered very difficult, and a score of 70 is estimated to be written at the eighth or ninth grade level. Research has indicated that a score of 70 is likely appropriate for adult readers. A score of 100 represents that the content is understood by readers with at least a fourth grade education.
All the while, Scribe SEO gives you the opportunity to change and re-evaluate your text on the fly.
Will I use this tool?
You betcha.
Especially considering I know I can do better than 39% SEO scores, even when writing for real people.
The post evaluated above was all about carry-on baggage allowances. Somehow, in my frenzy to get the post out there, I missed the obvious.
That won't happen again however.
I picked up the Scribe SEO monthly membership (for $27) just to check it out, but will definitely upgrade to the yearly membership before the month is up.
If you write like I do, Scribe SEO is one tool well worth checking out for $27. You'll get 30 evaluations on unlimited websites. For $47, you can get 120 evaluations and $97 buys 300. If you're just starting out, I'd suggest going the 'Starter' $27 route. If you don't think it serves you well, they have a 30-day money-back guarantee.
If you're writing an affiliate website/blog and Scribe SEO helps you write posts that rank better, drive more traffic, and gets you more clicks or conversions, I think you'll find the absolutely worth the price and the little bit of time it takes to evaluate your posts before publishing.