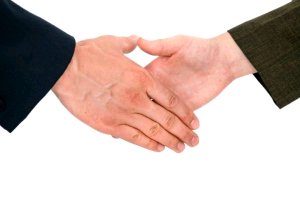 This is a true story about a very smart marketer who approached me with a JV request to promote his Internet Marketing product.
If you've been following me for any length of time, you know that I rarely promote products in the Internet Marketing and business opportunities categories, simply for the sake of promotion.
I also loathe the product launch bandwagon — where all the so-called 'guru' IMers promote a brand-new product at the same time. I avoid them like the plague. (Having said that, I did just recently find and promote a product that was in the midst of a launch — unbeknownst to me until I received a notice that I'd won a prize. Weird.)
Anyway, my rule of thumb is to promote only those products which I would buy and use to conduct my own online business… and being a bit of a spendthrift (cheap-o), it's unusual for me to want to buy any of the over-hyped products that I see being marketed, no matter how hard the JV manager tries to get me on board a launch.
In my experience, many of the 'new' techniques touted in information products were used successfully by their developers but are on the way out either due to overuse or black hattery that Google eventually disallowed.
Back to my story about the smartest JV request ever…
So, I hop on the phone one morning with a client who ordered a consultation.
As a pre-condition of the contract, I never look at their sites before we get on the phone to talk. That way they get my unvarnished reaction — a critical view of their offer.
Surprisingly, the gentleman immediately asked me to view a video and read his sales page.
I groaned inwardly when I realized that he was selling a product geared to the online business crowd. However, as I'd been paid $499 to review and critique his site, I shrugged the feeling off and went to work watching, reading and making notes.
At the end of my review, I told him what I'd liked, disliked and made recommendations for change — all of which he apparently noted.
I then asked him if the product really worked as promised.
He immediately gave me access and after reviewing the product, I told him how impressed I was with the quality.
From what I'd seen, he was obviously not some flash-in-the-pan operator, but a genuine human being who wanted to share with others who could benefit from his knowledge.
He got my unvarnished take on that perspective too.
At that point, he pointedly asked me if I would be willing to promote, and gee… guess what I said??
Heck, yeah!!
After he made the changes I recommended to the sales page, I promoted his product and we both made out like bandits, with an almost-zero percent refund rate.
Overall, his $499 consultation was a worthwhile investment and represented only a tiny outlay compared with his eventual earnings.
Just to be straight, I'm NOT saying that everyone should invest 500 hundred bucks in a consultation with me to get their product promoted.
What I do suggest however is that you think outside the box when marketing a new product. Ask yourself a few questions, such as:
Who, in your industry, will give you honest feedback?
Who will be your best advocate?
Am I willing to implement the changes they recommend?
When you figure that out, approach that person and ask for their assessment of your product and pitch.
If they like what they see – make the JV request. 🙂