NOTE: WP Remix seems to have gone out of business.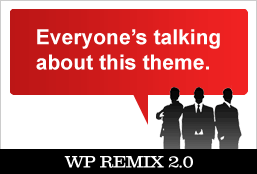 Flexibility and ease-of-use are what struck me first about the WP Remix theme for WordPress – especially regarding the ability to choose and change page and sidebar designs directly from the WYSIWYG editor. Trust me, after doing the work to create my own category pages and related sidebars, this feature alone sets WP Remix apart from other WordPress themes.
WP Remix also offers over 50 pre-structured, strategically built page templates that covers almost every layout possibility. Moreover, you can insert and edit page templates directly from the visual editor.
There are 10 different Home Page style options from which to choose. Shown below are just 2 of the 10 options.
You can also create a Product Gallery that renders in a number of different ways…
Horizontal navigation consists of drop-down menus with fly-outs for category children. You can choose the number of fly-out (child category) levels that you want to display.
Other features / benefits of the WP Remix theme for WordPress include:
7 Different Color Schemes and more to be added.
PHP and Javascript Coding – Unlike other themes that require an additional plugin to make PHP coding work within posts and pages, you can insert and execute PHP and Java script codes from visual editor in WP Remix. (Watch the video demo accessible from the homepage to see this in action).
Add-on modules – WP Remix offers optional add-on modules that you can use to empower the WP Remix theme such as a shopping cart, portfolio and dynamic gallery.
Famous Plugins Compatible – WP Remix is pre-configured and pre-formatted for the more popular plugins such as Contact-Form, Page Navi, Gravatar, Flickrss, Post Rating, Author Highlight and more.
Support – The theme is bundled with detailed documentation that explains basic to advanced modifications. There's also a Support Forum should you need help with one of the theme's features.
The only possible 'downside' (if you can call it that) is that you may not use the footer credit link to wpremix as affiliate link if you buy a single use licence. And to remove the footer credit link, you must purchase a multi-use licence… however this requirement is pretty much standard with WordPress theme developers and merchants.
I haven't listed all the WP Remix features here – there are too many to list – so I recommend that you visit the WP Remix site, view the demo and check out its ease of use and flexibility.