To help you build your own successful and sustainable affiliate marketing business, I've written the following books:
---
Super Affiliate Handbook: How I Made $436,797 in One Year Selling Other People's Stuff Online
This is amazing true story of how I, with no previous business experience, earned $435,000+ in 2002 (much more now) … selling other people's stuff online!
This is the industry's standard training manual that will take through the entire process of building an affiliate marketing business on the 'Net. In 236 pages, and more than 68,000 words, you'll learn how to pick the best programs, negotiate a commission raise and save time, money and effort on everything from affiliate software to web hosting.
Learn more about the Super Affiliate Handbook.
---
Make a Fortune Promoting Other People's Stuff Online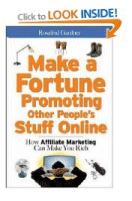 This is a McGraw Hill publication and is a LIGHT version of the Super Affiliate Handbook, i.e. it contains about half the content of the SAH. Too, because it is a softcover book, readers don't have the opportunity to quickly click through to referenced sites.
'Make a Fortune' has had no updates sinces its initial release on June 29, 2007.
My recommendation — If you simply want a basic grounding in affiliate marketing, and want to keep expenses down in the process, this book would be a good choice for you.
Get Make a Fortune Promoting Other People's Stuff Online on Amazon.
---
I also recommend a number of products and services (such as tutorials and software) produced by other Internet Marketing specialists in our Resources section.