Although the lazy days of the summer 'sales slump' are just about upon us come June, don't give up your affiliate marketing efforts too soon.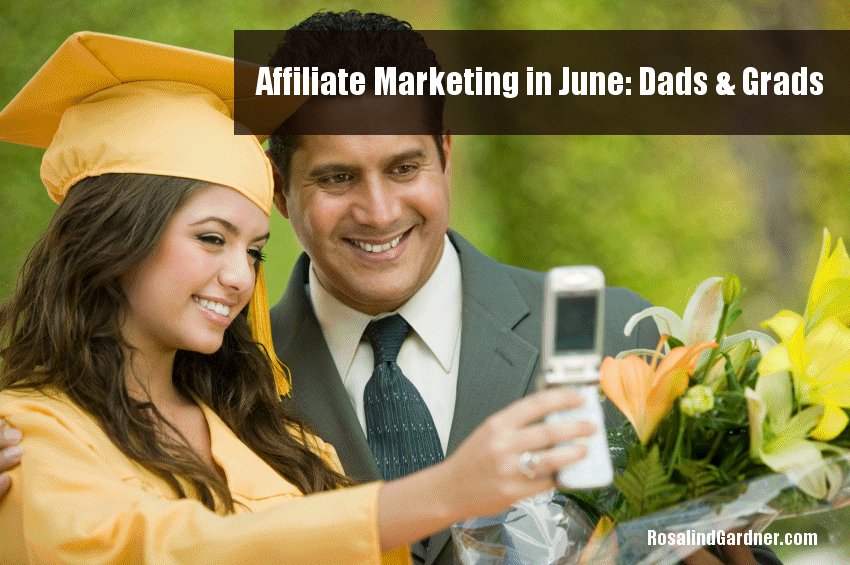 June is the time to pick up revenue from Father's Day, graduation season sales and other holidays.
Holiday Observances in June 2016 include:
1 Dare Day
1 Flip a Coin Day
2 National Bubba Day
2 National Rocky Road Day
3 National Doughnut Day always the first Friday in June
3 Repeat Day (I said "Repeat Day")
4 Applesauce Cake Day
4 Hug Your Cat Day
4 National Trails Day First Saturday in June
4 Old Maid's Day
5 World Environment Day
6 National Gardening Exercise Day- Get out and exercise with your plants.
6 National Yo-Yo Day
6 Ramadan – date varies
7 National Chocolate Ice Cream Day
8 Best Friends Day
8 Name Your Poison Day
9 Donald Duck Day
10 Iced Tea Day
11 National Corn on the Cob Day
12 Red Rose Day
13 Sewing Machine Day
14 Flag Day
15 Smile Power Day
16 Fresh Veggies Day
TBD Nursing Assistants Day – First day of National Nursing Assistants Week
17 Eat Your Vegetables Day
18 Go Fishing Day
18 International Panic Day
18 International Picnic Day
18 National Hollerin' Contest Day – third Saturday in June
18 National Splurge Day – Oh yeah!!
18 World Juggler's Day – Saturday closest to June 17th
19 Father's Day – third Sunday
19 National Kissing Day
19 World Sauntering Day
20 Finally Summer Day- Summer Solstice, date varies
20 Ice Cream Soda Day
21 Go Skate Day
21 International Yoga Day
22 National Chocolate Eclair Day
23 National Columnists Day
23 National Pink Day
24 Swim a Lap Day
24 Take Your Dog to Work Day Friday after Father's Day
25 Log Cabin Day
25 National Catfish Day
26 Beautician's Day
26 Forgiveness Day
27 Sun Glasses Day
28 Insurance Awareness Day – Now who do you think invented that!?!
28 Paul Bunyan Day
29 Camera Day
29 Hug Holiday
29 Internatioal Mud Day
29 Waffle Iron Day
30 Meteor Day
From years past, here is a list of topic ideas and titles to consider in June:
Top gifts for Grads
Top gifts for Dads
(Merchant name) Offers Smart Gifts for Dads and Grads
Dads and Grads June Special
Celebrate Dads and Grads
Top Tech Gifts for Dads and Grads (or just Dad, or just Grads)
Top 10 (product) for College Students (think laptops, cellphones, etc.)
Top 10 Tools for Dad in 2011
10 Excellent (product type) Gifts for Your Dad or Grad
Dad's and Grad's Gift Guide
Greener Gifts for Dads and Grads
Personalized Gifts for Dads and Grads
Unusual Gifts for Dads and Grads in (year)
My personal preference is always to promote the unusual as well as stuff folks really want, and here's my list of gifts suggestions for Dads and Grads this year. 🙂
Microbrewed Beer Delivered Every Month
Salsa of the Month Club
Pizza of the Month Club
BBQ Sauce of the Month Club
1,000 Places to See Before You Die (I LOVE this book!)
OK, so maybe that's MY list of wants. 🙂 Actually, I have the MOVA Clouds Satellite globe in my office and it's too cool. It rotates without batteries or wires. Of course, it sits beside my Sony Digital Photo Frame that flashes pictures of all the places in the world that I've visited over the past half century (plus). 🙂
Tips for Promoting Grads and Dads
Promote the 2 separately if your niche allows it. With different needs and interests, it's best to target the markets separately.
In the USA, UK and Canada – Fathers' Day is celebrated on the 3rd Sunday in June since being made a national holiday in 1966. In Australia and New Zealand, fathers are honored the first Sunday in September. Other countries celebrate fathers throughout the year.
Graduation ceremonies typically are held throughout the month of June in North America.
Make your blog and email subject lines enticing, i.e. "No shipping fees for Graduation gift purchases." NOTE: Avoid the word "Free" in your subject line to make sure your message doesn't get caught in a spam filter.
Speak to your potential buyers – not recipients. If you are addressing parents of graduates, avoid 'hip' terminology.
Present an array of options. If your niche is fishing, promote everything from cheaper lures to boats. Don't underestimate the willingness of people to spend big money online.
In 2010, Internet Retailer reported that among the consumers celebrating Father's Day:
36% will spend less than $25 on a Father's Day gift.
27% will spend between $25 and $49.
15% will spend between $50 and $74.
22% will spend $75 or more.
The top three Father's Day gifts are hobby-related items for golf, running and baseball (43%), entertainment gifts such as music, video games and movies (30%), and outdoor items such as barbecue tools (26%).
Last but not least, give your readers the option of purchasing a gift certificate, in case the buyer isn't sure what the dad or grad will like.
Did you find this post informative and useful? If so, please share it with others! If you have a comment, question or suggestion, please leave a comment below!
Cheers,