What's the most important strategy of getting your blog to the number 1 spot in both Google and Yahoo and keep all the search traffic to yourself? Definitely the ideal answer is proper keyword research and building authoritative backlinks.
In this blog post you will learn how I used Google Insight tool and press release service (webwire.com) to accelerate my Google rankings to top 4 within 3 days.
The use of Google Insight Tool was to generate highly profitable keyword with considerable search traffic and the purpose of using press release was to generate authoritative backlinks to my blog site.
How I nailed down the top 4 spot in Google within 3 days
The main reason why i decided to push my blog site to be on the top spot in Google and Yahoo, was to generate highly targeted long tail keyword with commercial intent.
The reason why I am advocating for long tail keyword, it's because they can convert results into sales and hence generate more business for your service or product.
How did I use this strategy to be on top 4 spot in Google?
It's simple and clear: I used both Google Keyword tool and Google insight Tool to generate narrower long tail keywords.
Below is a step by step procedure of what I did:
Step 1:
I went to Google Keyword tool and I started with the main keyword and I selected a narrower search term which had a global traffic of 300,000 monthly search volume. The niche I selected was "Greek Yogurt" as below:

Step 2:
I took the narrower search term from step 1 and I put it on Google Insight tool. The results were as per below screen shot: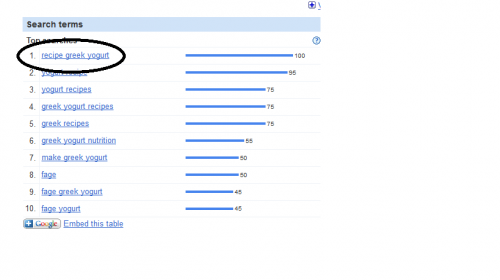 Some of the example of narrower keywords that I found were:
Recipes with Greek yogurt (Monthly search 22,000)
How to make Greek Yogurt (Monthly search 9,900)
Greek Yogurt nutritional facts (Monthly search 4000)
Based from the above keyword analysis I managed to settle with recipes with Greek yogurt as my main keyword.
Link building strategy that accelerated my Google rankings
As we all know quality content and authoritative backlinks will make Google deliver results to your business. One of the strategies that I used to build high authoritative links was with the help of press release service.
I took 3 good months to learn how to write a press release that will be of high interest to the media and journalist. My first objective was to make sure that my blog site has all the required information such as high quality content, resources and links.
I wrote a powerful top notch news release that I distributed via press release service (webwire.com) and after 3 days my blog site sky rocketed to top 4 in Google and it was as a result of high quality links that I received from the press release service.
Below is a screenshot of the news release that was distributed with the help of webwire.com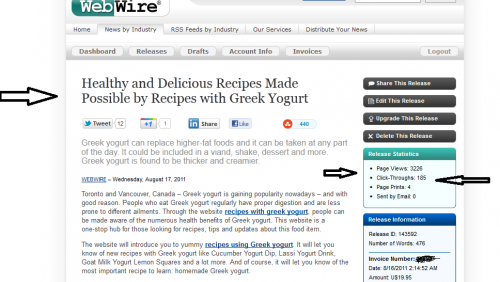 After 3 days I managed to get the below results:
From the above results my blog site started to get more attention from the major search engine and other referral sites. If you plan early with the right mind set, i can really assure you that will achieve the same results that I did.
From my own experience, I really don't think you need any Degree or Masters or any special software. The real truth is that you can follow the above simple steps and then replicate my results.
Do you have any results that you have achieved based on the above case study?