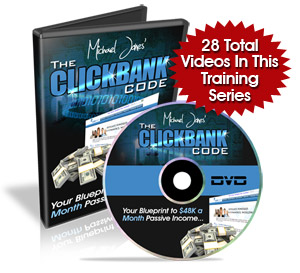 When I saw the salescopy for Michael Jones' Clickbank Code, uh well, let's just say that I was dubious – despite seeing the video of his Clickbank account which shows earnings of anywhere between $700, $1200 and upwards per day.
Michael was claiming to have made $11,516.45 in his first week as a Clickbank affiliate and then went on to make over $48k in his first month — with no list.
One point that he makes in the salescopy that I DID like however was about choosing Clickbank products and more specifically, he says, "I'm not talking about just picking the same old high gravity crap that everyone else jumps on…I'm going to show you my simple mathematical formula for picking the highest converting product every time".
Anyway, you know me… THAT I had to see, so I bought the Clickbank Code to find out what techniques Michael was using and determine whether or not they worked.
In addition to 5 hours worth of video tutorials from very basic "What is Clickbank" and "Marketing Terms" to more advanced landing page creation and free traffic tactics along with a bunch of bonuses; the Clickbank Code includes a "Clickbank Product Evaluator" spreadsheet that I think is worth the price of the product on its own.
There's a video tutorial on how to use the spreadsheet properly in which Michael cautions you to cull your keyword list and cull it some more until the list fits into the space available in the "Potential" workbook – just one of 4 sheets on that spreadsheet – but the one that shows you whether or not you should "Go for it!" or "Bail" according to the keywords you choose, their daily volume and estimated PPC cost.
Note the word "Bail" on the screenshot below? I plugged in keywords with an average Adwords cost per day of $213.78 but with only 4 anticipated sales on a product paying only $9.99 commissions… the spreadsheet advised me to bail.
The spreadsheet will even determine your "Break Even CPC" (cost per click).
When I found a few more keywords with lower CPC'S and higher volumes and plugged in a product that offered double the commissions (showing a daily profit of $230.00 per day), the spreadsheet told me to Go for it!
Those factors combined with the conversion and refund rates will give you a fairly accurate assessment of whether you stand to lose or gain on an Adwords campaign before you ever set it in motion.
Once you've found a market with good potential, Michael shows you how to scale up your campaign, i.e. if 100 clicks make money, 1,000 or 10,000 clicks will make you a lot MORE money.
The Clickbank Code videos are well done – they're actually big enough to see exactly what Michael is doing. Furthermore, the audio is clear as a bell and free from speech impediments or a hard-to-decipher thick accent.
Michael shows you some good Google Adwords tricks that will increase both the relevancy of your ads, and therefore the quality score. Actually, Michael shared one tip that had me running to my Google Adwords account to make some serious changes immediately… ugh, never heard THAT one before, not even in those $1,000 courses!
Michael also shares a black hat tactic – but at least he warns you right off the bat that you will lose the relevant account if you get caught using it.
Seriously, the biggest complaint I had about the Clickbank Code happened after I bought it – page after page of upsells – just when I wanted to get see the product. Moreover, all of those products are available to buy from within the membership system.
Overall, I can heartily recommend the Clickbank Code as an excellent video tutorial series on how to profit by selling Clickbank products as an affiliate. That spreadsheet, along with just a few of his tips are worth a whole lot more than $77.