Well, halle-flippin'-lu-ya, Clickbanks new marketplace categories and search functionality have been in place for the past couple of weeks now and the improvement is phenomenal.
For example, affiliates who want to promote my book can actually FIND the product through a keyword search (see pic below), unlike before when they'd have to contact me to get their affiliate links, because they couldn't find me on Clickbank, despite the fact that the book has been on Page 1 of its category since 2003.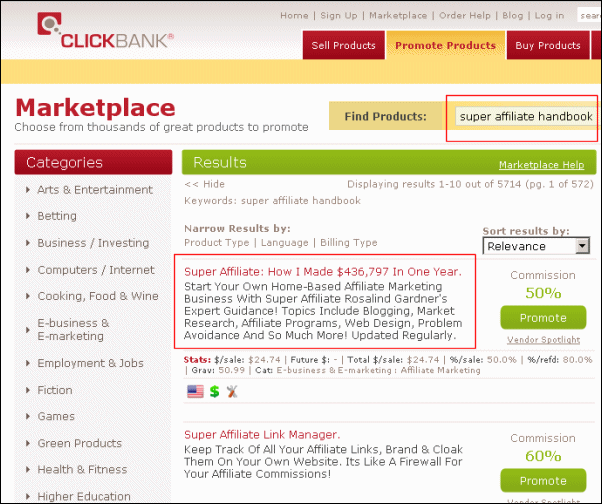 Speaking of categories, the category search now makes sense. Vendors aren't permitted to place their products in multiple categories, so those deserving of higher rankings within their appropriate category now receive them.
For example, I was surprised to see German, French and Spanish products show up on page 1 under Male Dating guides – the latter 2 of which are translations of "How to be an Alpha Male". For a dating affiliate, that's great information to be sure, that I would otherwise not have known using the previous system.
Thanks Clickbank, for making a good system even better!