As a local business owner, it's not enough for your website to be listed in Google's natural search results. It must also show up in Google's business listings which are available through Search, Maps and Google+.
My friend Jo Gagné recently asked for my help to increase traffic to her business website, BodiesonPower.com (BOP). Bodies on Power is an award-winning fitness center here in Penticton, British Columbia.
To find out where her site placed on Google's listings, I did a search for 'penticton yoga' and this is what I found…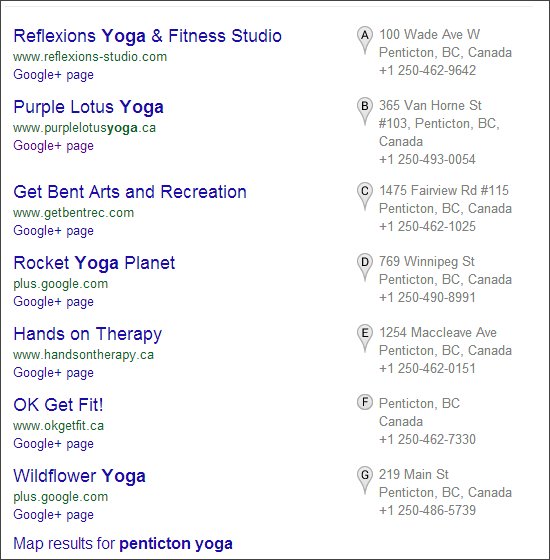 That's right – nothing in the local business listings.
While her site did show up in the natural listings, I had to scroll well past the initial fold to find it.
That's not a good place to be when her major competitors all had their businesses properly listed on Google.
So, I set her up with a Google My Business listing in less than half an hour. Here's what I did.
Through her Google account, I created a Google+ personal profile page for Jo.
I created her Google+ Business page by entering the name of her business, address, telephone number and hours of operation. I also uploaded profile, background and other pictures.
I verified the listing using the phone method. I alerted the studio that they would be receiving a call from Google with a set of numbers they would need to record and pass back to me. I entered the verification number the studio gave me and the listing was finalized.
For good measure, I wrote a review of her studio. 🙂
That took me just short of an hour to complete. Shortly afterwards, the Bodies on Power website showed up in the local search and business listings on Google.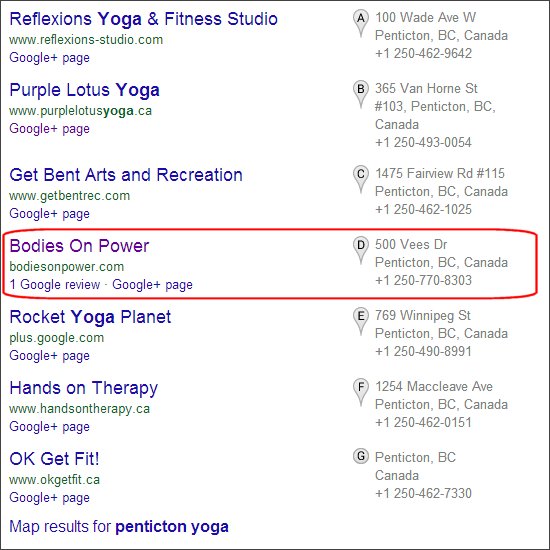 Now, when I search for "Penticton yoga", Bodies on Power at least shows above the fold. YAY!
It also shows up on the Google Map.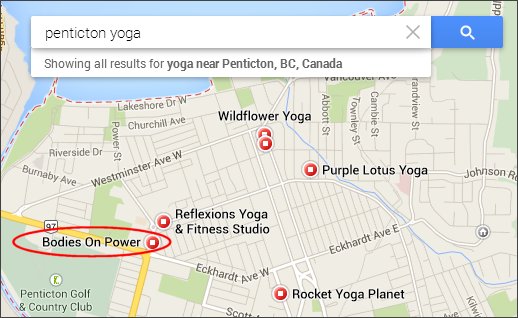 Showing up on Google Maps is very useful, especially in a resort town such as Penticton where our population quadruples in summer and there are no doubt plenty of visitors who would want to drop in to a fitness class.
Better still, the Bodies on Power listing in natural search now includes a 'local listing indicator' which appears alongside the business address and phone number, as well as links to Google Reviews and the Google+ page.
Last but not least, Jo's business now has a pretty Google+ profile that shows up beside her natural search listing.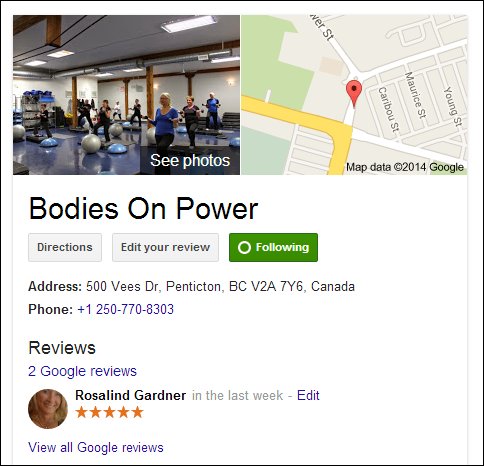 The beauty of this is that for those of us who use Google Maps, directions to the place of business are just a click away.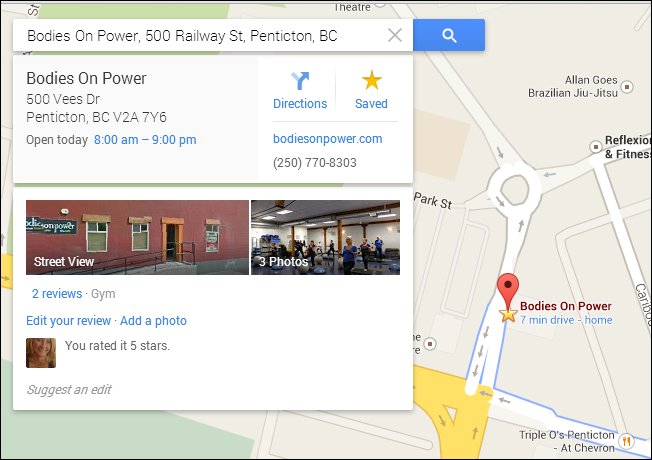 So… now all we have to do is get Jo's webmaster to install a Google +1 button so her visitors can/will leave reviews, endorse the Bodies on Power content, and re-share Jo's Google+ posts across the web.
Comments, questions or suggestions? Please leave a comment below!
Cheers,

P.S. At the time of writing, the BOP website is under significant revision. Please do not comment about problems with the site. They will be fixed. 🙂