Please Note: This software is no longer being sold or supported.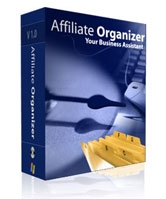 Forget the Massive Spreadsheet…
Do you have trouble keeping track of every detail of your affiliate marketing business?
Well, there IS help!
Software developer, Jon Mills, has just released 'Affiliate Organizer'. On hearing about it, I immediately took it for a test drive.
The software was extremely easy to install and an icon appears in the bottom right-hand corner (the system tray) of your desktop making it really simple to access.
'Affiliate Organizer' allows you to store all your most important information from your day-to-day business.
Here's a list of all the information you can input into 'Affiliate Organizer':
Hosting
Websites
Advertising ( ppc.. my favorite)
Merchants
Outsourced Work
Adsense
Tasks/Alerts ( This is a life saver )
Projects and Ideas
Keyword Lists
Domain Registrars
Forums
Link Partners
Blogs
Year Plan ( this was cool.. plan everything out ahead of time)
Services
Training
Resources
Software ( anything you have purchased)
Autoresponder
Memberships
Contacts
Everything is simple to use. Just fill in the blanks and save.. it couldn't be much easier.. so a real thumbs up regarding how user friendly it is.
The tasks/alerts and advertising section is a real life saver.
I can setup any upcoming events in the tasks/alerts section and it will notify me both by email and on-screen. How cool is that?!
Everything can also be backed up and restored at the click of a button! So, no more lost data, which is a major relief for me… and anyone else who's ever lost data before. :=)
Overall I was thoroughly impressed with the amount of detail that has been covered. John has covered all the bases with 'Affiliate Organizer'. I can't think of a thing that needs to be added or changed.
Whether you do affiliate marketing or just want to keep track of the important aspects of your online business… I HIGHLY recommend you check out 'Affiliate Organizer'.