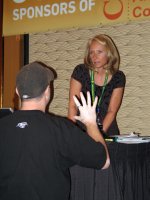 I've just agreed to speak at the 5th Annual Casino Affiliate Convention to be held on August 27-28, 2007 at the Intercontinental Hotel in Montreal. (The pic was taken at the September 2006 Casino Affiliate Convention held in Vegas.)
My presentation topic is 'Tips for Super Affiliates'. Please note that as I do not work in the online gaming sector, this presentation will be of a more general nature, and therefore applicable to affiliates in all sectors.
That presentation will take place at 3:30 on Monday, August 27th. I will also participate in the 'ADAM ANHANG MEMORIAL FINAL PANEL DEBATE (a.k.a.: The "Beer Session")' currently scheduled for Tuesday August 28th at 3:00 PM.
The Casino Affiliate Convention has a global focus on internet marketing for the affiliate marketing and online gaming industry. Attending will be executives from casinos, poker rooms, skill gaming, P2P, bingo, sports books, marketing firms, online casino executives, affiliate managers, affiliates and portal webmasters of both gaming and non-gaming related sites.
Please click here to learn more about the Casino Affiliate Convention.
[tags]Casino Affiliate Convention, Rosalind Gardner, affiliate marketing[/tags]