Website Building for Small Business Owners since 1997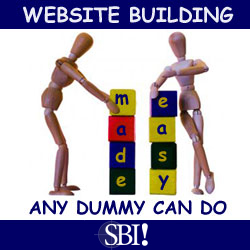 If you've visited my online business and affiliate sites, you already know that I'm a total WordPress junky, so it might surprise you to see me talking about – let alone recommending – a website builder like SiteBuildit! (SBI). And you're right, I wouldn't recommend SiteBuildit! for experienced web developers or WordPress bloggers.
However, if you're just starting out, need a website and are looking for an all-in-one site building ecommerce solution, SiteBuildit! might be right for you.
Since 1997, Ken Evoy has been offering his customers an extraordinary range of site and business building tools through SiteBuildiT that let you register your domain, host your site, build your site, research your market, tweak your site for the search engines, drive traffic and much more – all from one interface.
But Ken's key intent with SBI is much higher than mere site-building – the focus is on business building. As he says, "Why build a Web site…when you can build a BUSINESS?" which SO echoes my own focus.
Content > Traffic > Presell > Monetize
SBI uses a system called CTPM to help SBI! owners build sites out naturally by building content, generating traffic, preselling and then monetizing. And as Ken reminds us, " 'M' cannot happen if you fail to first execute C T P. This is where 99% of small businesses fail. He has a whole page devoted just to helping aspiring online business owners understand the importance of using a "Content > Traffic > Presell > Monetize" approach.
What I believe is also critical to keep in mind is the fact that a website is just a tool with which to DO business. So, building the site shouldn't be where most of your time and energy is spent. What you don't want to do as a small business owner is hunt and peck all over the 'net to find this or that plugin to make this or that application work. To see all of the tools offered in the SBI! system, visit SiteSell Tools.
Traffic Magnets
One of SBI!'s MOST beneficial features is that SBI! sites attract traffic. According to Netcraft.com and Alexa.com, 35% of SBI! sites ranked in the top 1% of all sites and Fifty-three percent (53%) were in the top 2% and 62% scored in the top 3%.
If you're just too busy to build your own site, even using SiteBuildiT!'s plug 'n play site builder, you can always get one of SBI!'s certified webmasters to do it for you!
SBI! Customer Loyalty
And just one more thing before I close – you'll find that SBIers are a downright LOYAL lot. They use it, they love it and they're always keen to tell you why. (Granted, I do the same regarding WordPress – so it's no wonder successful SBIers like to talk up their system likewise.)
Whichever way you want to look at it, SBI! has been and is still one of the best all-in-one site building tools on the market for small business owners, and it keeps proving itself over and over and over again — all for less than a buck a day.
To learn more about SBI, you can take a quick tour (if you're short on time) and compare SBI!'s features with Yahoo! Web Hosting Pro, Verisign Web Business Expert and Microsoft bCentral Professional.