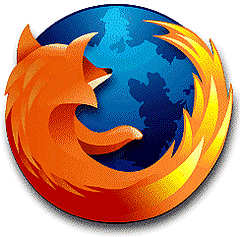 I've finally became a dedicated Firefox user.
After trying for days to get into the Air Canada site to book a flight to Affiliate Summit West, and always getting the message "Internet Explorer' cannot open the Internet site…" it finally occurred to me that the problem (for once) wasn't Air Canada, but my Internet Explorer browser.
I cracked open Firefox and voila! I got into Air Canada no problem, so I set Firefox as my default browser.
One of the aspects that I didn't appreciate about Firefox before, I now view as an asset.
Firefox is really temperamental in how it reads CSS and HTML coding. For example, the standard old hspace and vspace coding for images does nothing in Firefox and therefore aligns the images directly adjacent to text, which looks like hell.
So, what I've found in using Firefox regularly to check my coding is that if your page looks proper in that browser, it will look good in Explorer, which isn't nearly so picky about coding.
One thing you should know however, is that you might have troubles copying and pasting into your web-based applications using Firefox.
That's easily overcome by typing "about:config" into the address bar, and double-clicking on "signed.applets.codebase_principal_support". When you double-click, it bolds the line. After doing that, close and re-open your Firefox browser window. Now you can copy and paste to your heart's content.
Perhaps the best reason NOT to use Internet Explorer at this point are its known security issues – a bug which Microsoft confirms is within all its browsers and puts "users running any of those browsers on Windows 2000, XP, Vista, Server 2003 or Server 2008 at risk".
Hello Firefox!!!
OK, go ahead. Tell me you told me so. 🙂
Comments, questions or suggestions? Please leave a comment below!
Cheers,