Cyber Monday is one of the most lucrative online shopping days of the year for affiliate marketers.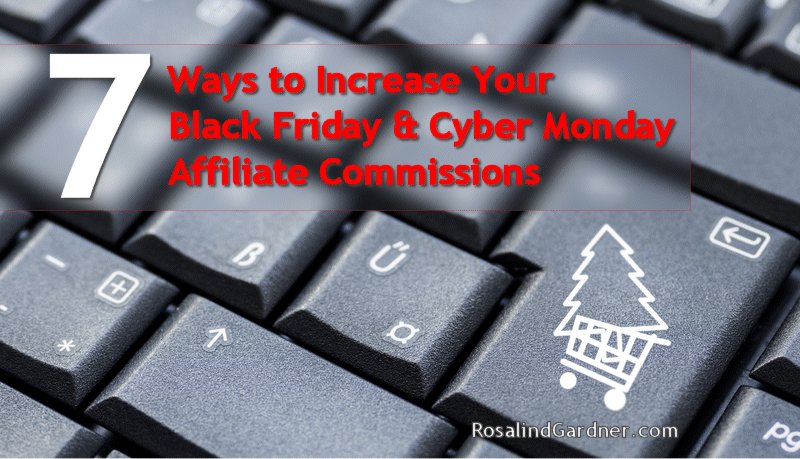 Black Friday falls on the Friday after Thanksgiving Day in the United States and Cyber Monday falls on the Monday after that. Cyber Monday is a marketing invention that was first observed in 2005 by online retailer shop.org. Seen as an online version of Black Friday, Cyber Monday was created to allow customers to shop online from the comfort of their offices and homes. Most online retailers offer great deals and deep discounts to customers on these days.
Here are 7 tips to help you make the most of your affiliate sales this coming Black Friday and Cyber Monday.
1. Visit Your Affiliate Networks
Login to each of your affiliate networks to see what deals your merchants are offering for Cyber Monday. Many affiliate networks post links to holiday offerings on their homepage which makes finding promotional materials easy to find. Or you can search for Cyber Monday deals easily. For example, on CJ.com, you can log in to your account, go to Get Links > By Relationship, and search for "Cyber Monday" to get a full list of relevant text and banner links from all your merchants… uh, those who have bothered to label their promos "Cyber Monday". 🙂
Here is a graphic example of how CJ Affiliate by Conversant (CJ.com) allows affiliates to search specifically for Cyber Monday links and banners.

2. Check Your Affiliate Emails
If you're set up to receive emails from your merchants, your Inbox is likely to be full to overflowing with deals and offers at this time of year. Pay attention to them! It's sometimes easier to pull a promo coded with your affiliate link from an email than to go searching for it on an affiliate network. Here's an example of an email I received from Udemy with links and banners coded with my affiliate ID to Cyber Deals: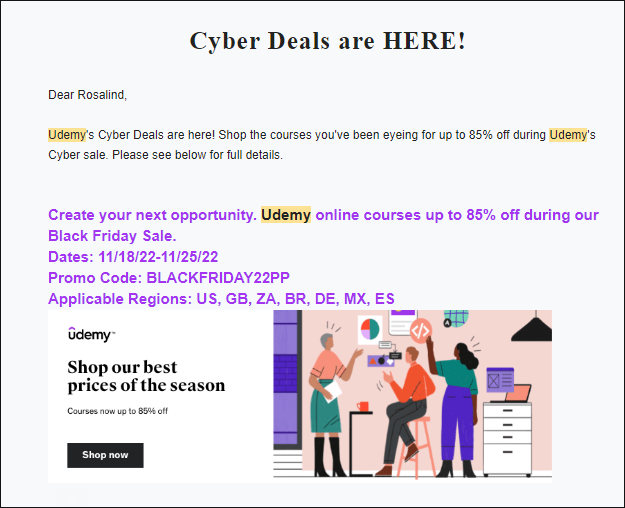 A merchant can't make it any easier for an affiliate to promote their product! Just copy and paste the coded links into your WordPress blog.
Make sure you read those emails carefully. Many merchants place restrictions on when Cyber Monday offers can be advertised, i.e. not before a certain date.
3. Make Your Site Festive
Show that you are celebrating the Christmas season by using festive graphics in your blog posts. Better yet, change your logo to include a sprig of holly or a Santa hat. Or, go all out and do what Google does…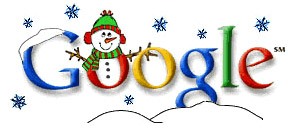 I purchase graphics through iStock. To have a really cool logo created, I recommend services such as Freelancer and 99Designs.
4. Add New Cyber Monday Promotions to Your Blog Daily
If you are used to blogging only once a week, this is the time to start blogging daily if you can. The more frequently you post, the more often your site gets noticed by Google which in turn means more traffic for you!
5. Follow up with Blog Broadcasts
Notify your email subscribers of Black Friday and Cyber Monday deals posted to your blog using a service like Aweber's Blog Broadcast. You only have to set this up once, and then every time you post to your blog, the article automatically goes out to your email subscribers.
6. Promote Your Posts on Social Media
Don't forget to post links back to your blog posts on Facebook, Twitter, and LinkedIn where applicable.
7. Set up Google Alerts
Set up search queries in Google Alerts to stay aware of deals about which your merchants (and affiliate competitors) are blogging. Google Alerts is a content change detection service that will automatically notify you when new content from news, web, blogs, video and/or discussion groups matches the search terms you input into the service. You'll get the results delivered by email.
Best of success on this Cyber Monday everyone!! Get out there and earn some BIG commissions!
Did you find this post informative and useful? If so, please share it with others! If you have a comment, question or suggestion, please leave a comment below!
Cheers,