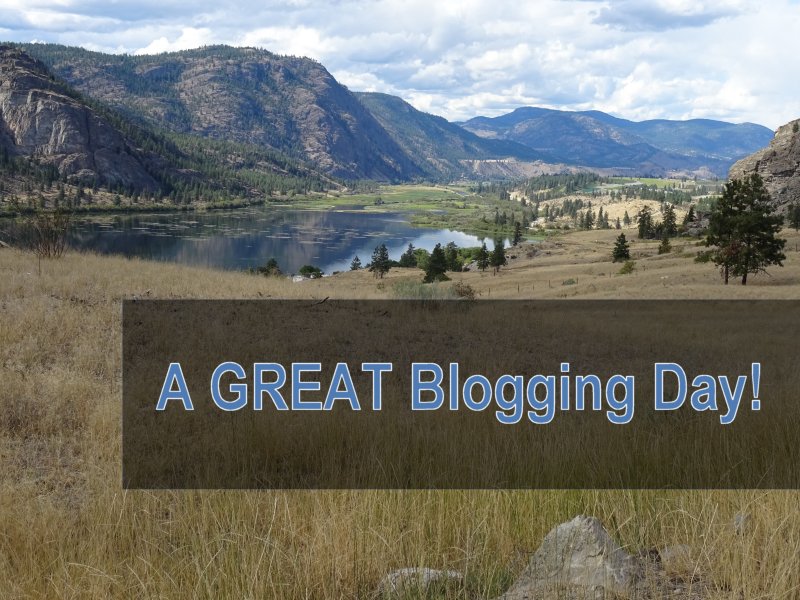 Just for fun, I thought I'd write about a really good 'day in the life' of this blogger.
Awoke at 6AM (after 7 hours of multiple sleep interruptions – the downside to being 55?)
Fed Jasper, my 5 1/2 year-old Chocolate Labrador.
Made a coffee (So NOT a coffee snob, I drink Nescafe Instant).
Returned to bed with coffee and read "Born to Run" by Christopher McDougall for an hour on my iPad. AWESOME book.
Snoozed again until 8 AM (trying to get in those 8 hours of all important rest).
Got up and did a little yoga to get the muscles stretched and warmed for the day ahead.
Ate a breakfast of scrambled eggs and toast (which Ed made) while watching the news.
Washed the breakfast dishes.
Took Jasper for his morning constitutional.
Did some cleanup around the RV and sorted through things in preparation for our trip down to Arizona in mid-October.
Checked email.
Attended to a few administrative matters – bill payments, etc. Get those pains out of the way first!
Responded to customer service emails, blog comments and emails from folks with questions about blogging and affiliate marketing.
Checked my Facebook profile and Facebook page. Enjoyed many good laughs and responded to questions posed on those venues.
Built the BackStory on my Aboutme. account.
Re-connected with an old room-mate from my early air traffic control days.
Prepped slow-cooker (crockpot) borscht for dinner.
Helped Ed try to set up our new satellite modem. I held the phone, while he talked to Galaxy Broadband and tried to get the satellite pointed properly to pick up our satellite Internet connection. Ed gave up on the setup after awhile – we will try again tomorrow. Fortunately, we do have another Internet service that we use here on the lot.
Took Jasper for a 1.5 hour long hike in the local mountains.
Returned and took a long hot shower – which is a real treat when you're living in an RV. 🙂
Wrote this blog post.
Created a title picture for the post.
Published the post.
Shared the blog post on Facebook, Twitter and Google+.
Sent a quick note to my subscribed readers about the new article via Aweber.
Re-checked and responded to email.
Talked to my mum for half an hour without incident. MAJOR victory.
6PM – Had dinner while watching the news.
Took Jasper for his evening constitutional.
Watched Big Bang Theory and Just for Laughs ALL Access (mostly upside-down) while stretching on the floor.
In bed by 10PM.
Read until 11 PM.
Sleep.
All around a truly GREAT day!
So… What constitutes a GREAT day for you when it comes to running your blog / blogging business?
Did you enjoy this article? Please share it with others! If you have a comment or question about these WordPress tips, please leave a comment below!
Cheers,