Blogging equipment needs to be kept to a minimum if you're an RV lifestyle or travel blogger, or someone who works in a VERY small office. 🙂
I've been blogging from our RV for the past year, and I thought it would be fun to show you the office I've been working in, as well as provide you with a list of my blogging equipment, both necessary and nice-to-have.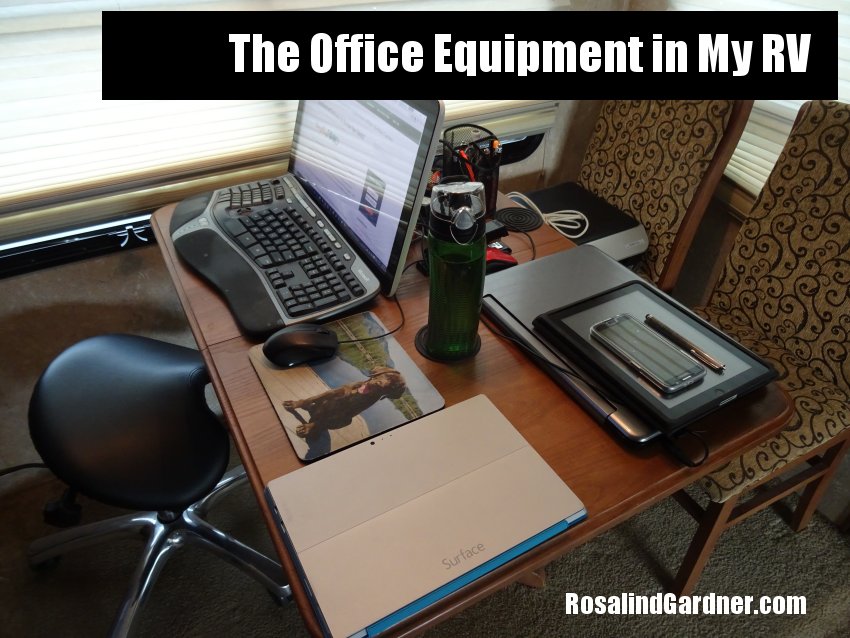 Must-Have Blogging Equipment
Computer
I bought a Sony Vaio All-in-One specifically to use while blogging on the road as I wanted a large screen and a full-sized keyboard, but didn't want to deal with having to pack up a large computer every time we moved the RV to a different campground. As it is, I unplug all the components and throw the computer under the blankets on the bed when we travel.
When I have to fly somewhere and will be away long enough to need more functionality than provided by an iPad, I take my Surface PRO, which I carry in a neoprene carrying sleeve.
Internet Connection
I usually connect to the Internet through a Galaxy Broadband account using our satellite dish (see picture at the bottom of the post). I tend not to trust unsecured public connections (free Wifi) available at RV parks.
Keyboard, Mouse and Mouse Pad
To keep my hands, wrists and forearms healthy and pain-free, I use a Microsoft Ergonomic keyboard, just as I do in my home office. Both the keyboard and mouse are wired and plug into the USB hub (see below). The mousepad is by Marvelous Printing and personalized with a picture of Jasper the Chocolate Labrador as a puppy. Yes, Jasper has his own Facebook Page. 🙂
Camera
I took the picture above with my Sony DX-HS60V. Taking your own pictures to use as featured images saves money on stock photo images.
Phone
Samsung Galaxy S6 in a case with a tempered glass screen protector. I'll be upgrading to the Galaxy S7 in the near future, for improved camera quality and water resistance.
Chair
After 3.5 months of using the dining chair at the table in the RV; my neck, back and arms were protesting in pain, so I ordered the Better Posture Saddle Chair by Jobri from Amazon. It's similar to the saddle chair that I use in my home office… when the house is finally ready. 🙂

USB Hub
I use a powered USB hub in the RV.
Nice-to-Have Blogging Equipment
Printer
I have an HP Envy 5530. Normally I wouldn't bother with having a full-sized printer in the RV, but because we anticipated having to print numerous documents related to the house-building project, I just took the home printer and stuck it on the dining room chair.
Water Bottle
After years of using what seems like SCORES of different water bottles, I finally found one that I LOVE — the metered Thermos Nissan Intak hydration system. Easy to drink from, no leaks and easy to clean. YAY!
GPS Enabled Watch
Shown in the picture above is my Garmin Forerunner, which when not in use is plugged into the USB hub to keep it powered up and to sync it with Garmin's online activity tracker. Of course, you don't NEED one of these, but it is a good reminder to get outside and play to keep your body fit and healthy so that you can blog another day.
That short list of equipment to run my affiliate marketing business from my RV should be proof positive that you don't need a lot of either space or equipment to work as an online entrepreneur or an affiliate marketer.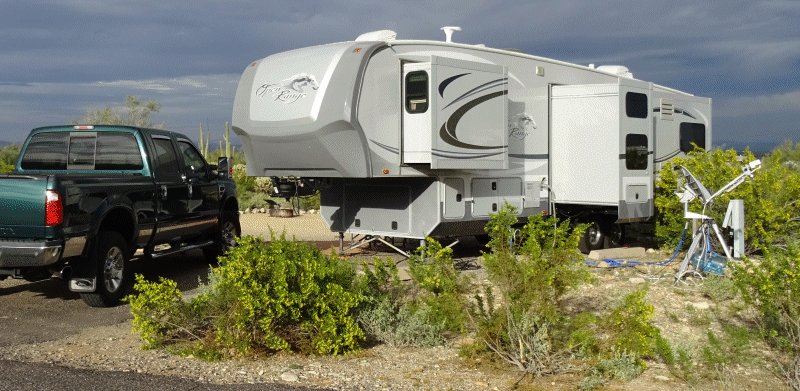 The picture above was taken at White Tank Mountain Regional Park just west of Phoenix in March 2016. To learn more about the places we camp, visit my personal blog.
Did you find this post informative and useful? If so, please share it with others! If you have a comment, question or suggestion, please leave a comment below!
Cheers,