According to Jennifer Slegg over at Jensense.com, webmasters with MFA (Made for Adsense) sites are getting emails from Google stating that their business model is unsuitable and that their Adsense accounts will be disabled as of June 1st.
WOOHOO!!! YeeHA!!! and it's about time!
FYI – Webmasters with MFA sites send quanitites of inexpensive pay-per-click traffic to their sites for the sole purpose of having visitors click their Google Adsense or other contextual advertising network ads such as the Yahoo! Publisher Network (YPN). The business model is known as arbitrage.
These sites contain absolutely no content. No informational articles, product endorsements, news or anything else a good affiliate / publisher would place on their site.
Here is a graphic image of a site that came up after searching for 'running shoes' at at SearchFeed.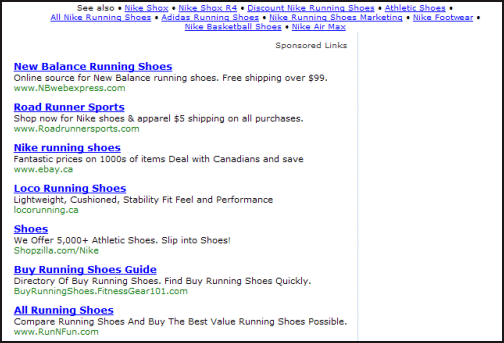 This is only a portion of the page, but the whole page consists of nothing but Google Adsense and other links fed from contextual advertising networks. The navigational links point to more of the same.
So, why am I gleeful that these guys are getting shut down?
Well, as someone who uses the Internet to shop, these sites are absolutely useless and a total waste of my time. It gets increasingly frustrating when you click on one of the ads on these pages and end up on another arbitrager's site. Groan. (I've made it a policy to never click on these ads.)
From an advertiser's perspective, these guys cost me money by bidding on keywords for which they provide no useful content. With them gone – it should be easier to bid higher positions without additional cost.
Furthermore, I haven't put my Adwords ads on Google's content network for ages because traffic from the arbitragers' lousy sites is complete garbage. When people click any ole link on a site just to get off that site – that hardly qualifies as targeted traffic. It simply burns up your PPC advertising budget in a hurry and you get almost nothing in return.
Basically, once the arbitragers' Adsense accounts are terminated and I know my ads will show up on decent sites that offer great relevant content, I'll start placing my ads on the content network again.
We'll see what happens.