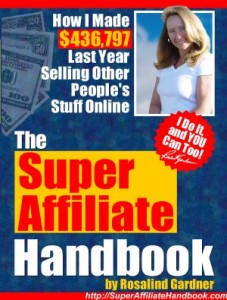 The Super Affiliate Handbook was published almost 11 years ago, in June 2003.
Since then, tens of thousands of folks have read it and either become a Super Affiliate or started an online business of their own WITH an affiliate program.
I have thousands of wonderful testimonials from all over the world about how my book has helped them.
These are folks in the Internet and Affiliate marketing industry that YOU have heard of making millions after reading my book… i.e. Allan Gardyne (associateprograms.com), Allen Says (warriorforum.com), Amit Mehta (PPC expert) and more.
So here is my request.
You LIKED the Super Affiliate Handbook, right?
Awesome!!
Please do me a favor and leave a review on Amazon – where apparently MOSTLY 'haters' bother to respond… even those who admittedly NEVER bought the book are allowed to give voice, whereas the thousands of happy customers that I've responded to via email and posted their testimonials on my site count for little.
Please, make YOUR voice count.
Please tell Amazon what you thought about my book — I'm about to release it's 11th anniversary edition and NEED all the help I can get.
Thanks… from the bottom of my heart!!
Those who DO leave a review WILL be recognized when the new Kindle edition is released in June.
Thanks!!!!
Comments, questions or suggestions? Please leave a comment below!
Cheers,