Failure to build trust online with consumers is still the biggest obstacle to online sales, and judging by the amount of spam and scams flying about in cyberspace, surfers are right to remain wary.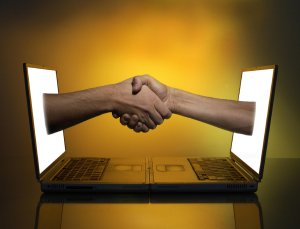 Here are 10 ways you too can build trust online and increase your conversion rates by improving visitors' trust in your sites.
Honesty

Visitors should know exactly what to expect before they get to your site. Dishonest advertising wastes their time and your money. They'll leave without buying, or plans to return.

Superior Knowledge

Affiliates with high conversion rates usually own the products they sell. First-hand knowledge lends credibility to their personal reviews and sets them apart from the crowd.

Invite Feedback

Testimonials from happy customers are an excellent way to build trust in your product reviews.

Sell Quality Products

Complaints, refunds and charge-backs lower your reputation, as well as your revenue. Sell only high-quality products.

Keep Design Simple

Gratuitous animated graphics scream "Webmaster Kindergarten". Focus on your products, not fancy gimmicks.

Show Respect for Visitors Time

Broken links, graphics and forms are frustrating. Pop-ups, music and noise are maddening. Respect your visitors' time and space. Make sure your site is free of errors and other annoyances.

Be Available

Make it easy for visitors to get in touch with you. A highly visible contact link on every page is usually enough to let visitors know that you are readily available.

Expose Yourself

It's a psychological fact that trust increases with exposure. Stay in touch with your visitors by sending them useful information through your mailing list.

Stretch

Affiliates often receive emails better handled by the merchant partner. Don't ignore those emails. Relaying the message promptly brands you as a professional with both the customer and your partner.

Give Treats

Freebies are like chocolate samples. Few folks will turn them down, and your reputation goes up when they're good.
As you can see, gaining your visitors' trust is simple. Simply be trustworthy. Incorporate one or all of the above methods and watch your credibility, conversion rates and sales increase.
This article originally appeared in the "Affiliate's Corner" column of Revenue magazine which I wrote for 3 years. You might be able to access other articles in their Revenue Magazine archives.
Did you find this post informative and useful? If so, please share it with others! If you have a comment, question, or suggestion, please leave a comment below!
Cheers,