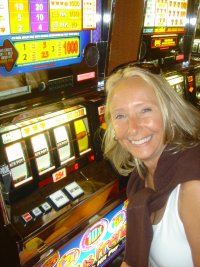 Hello from Carmel, CA., where I'm spending a few days on the tail-end of my Casino Affiliate Convention trip. As I live in the near-desert, it's a lovely change of pace to breathe fog and listen to the ocean.
Although some exhibitors and speakers (including Mr. Rabie of Betcorp with whom I was supposed to split the 90-minute stage time) pulled out of the conference after news that Peter Dicks, U.K.-based Sportingbet PLC Chairman had been arrested at J.F.K. airport on September 7th – CAC2006 was very well-attended.
"The Super Affiliate Session: Tips for the Best of the Best" presentation was jam-packed with affiliates and a couple of affiliate managers.
Now you may wonder why an affiliate who promotes dating services almost exclusively and drops a whopping fifty cents in slot machines per trip to Vegas would speak to affiliates in the gaming sector.
Worse, during the introduction, I had to admit that I hadn't yet been able to find a coin slot in which to drop a couple of quarters! 🙂
But the truth is that my lack of gambling knowledge wasn't a drawback at all. It actually made researching those tips for the 'best of the best' much easier.
I simply put myself in their customers' shoes by pretending to be a newbie interested in learning how to play poker online.
After finding their sites, I then decided whether or not I would feel comfortable opening my wallet based on their poker instructions, casino recommendations and other information.
Have you ever surveyed your own site(s), or better yet – your competitors sites – from that perspective?
Put yourself in a newbie's shoes and pretend that you are about to make your very first online purchase. Now go and look at some affiliate sites in your niche. Look for the best of the best and answer the following questions.
What site elements encourage you to trust the webmaster of one site over another? What convinces you that purchasing online is safe? Would you remember their site to return to it later? Are you given incentive to get more information on the topic? Would you remember the webmaster's name? Is there something that makes you believe that the products promoted by one affiliate are superior to similar products promoted by affiliates on other sites?
Make note of the techniques that strike you as the best of the best. Incorporate those elements that work to build visitor trust and your reputation as a trustworthy purveyor of quality goods into your own affiliate site.
Then watch your conversion rates and commissions soar!
Note: Quick tip for affiliate managers. Let your staff techies attend the SEO sessions while you go to the affiliate training presentations. Then share what you learn with your own affiliates!
Cheers,
Ros
P.S. Check out the picture above very closely and notice how much I learned from my research for the Casino Affiliate Convention! 🙂