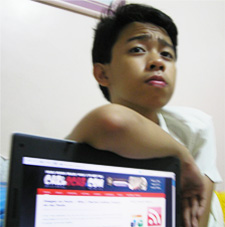 It's hard to believe that a 14-year-old kid who started his blog just this past summer, would rank #1 on Google for a highly competitive keyword phrase like "make money online", isn't it?
Well, it's true.
After attempts to make money online with a tech blog and then a gossip blog failed, Carl Ocab says he was "Heavily Inspired by my Dad, I tried my best to find a broad topic that I can blog about for ages", so he started blogging about how to "Make Money Online with a 13-year old".
What a great hook!
And although you might be skeptical that the genius behind this effort is really only 14, reporters Annalyn Jusay and Abe Olandres from Manila who have interviewed Carl, both verify his age (with pictures) and also comment on his outward shyness.
Online, he doesn't seem so shy – with a big ad plastered in his top navigation that reads "I'm on the front page of the bloody competitive keyword "make money online" which goes on to an advertisement for placing your advertising on his site. Smart!
Here are a few posts to check out:
Carl's site is worth a look if you want inspiration or linking opportunities from his blog via reviews, advertising, guest blogging, and comments.
Did you find this post informative and useful? If so, please share it with others! If you have a comment, question or suggestion, please leave a comment below!
Cheers,