Gee, blog commenters these days have some really strange names.
Like who would think to name their kid "seo strategies", "plumbing fixtures" or "cheap shoes"?
Seriously, you gotta wonder what some folks are thinking when they post comments like this to a business opportunities / Internet marketing blog like NetProfits Today: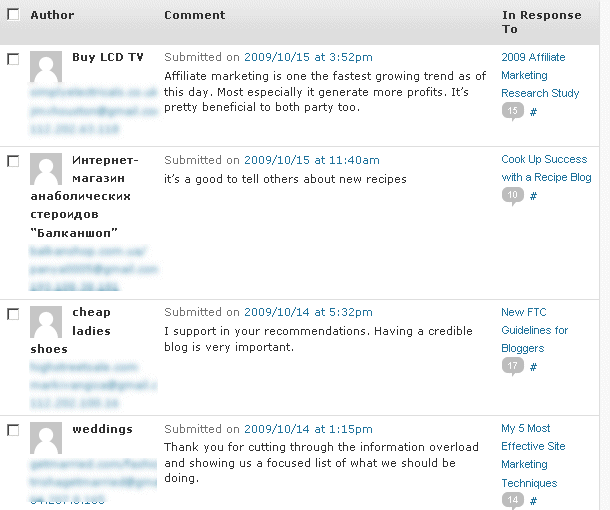 First of all, the NPT blog is about Internet and affiliate marketing, so WHY would a knowledgeable blog commenter use a name like "weddings" or "buy LCD TV" to try and attract traffic to their site?
Uh, they wouldn't.
It's unlikely that "cheap shoes" will get their comment approved on professional blogs.
Business bloggers immediately see that "cheap shoes" is probably a spammer or a complete newbie who has wasted money on a bad training course. And it makes me feel sad when "cheap shoes" actually does leave a good comment, but they've contravened my blog commenting policy so I can't approve their comment.
The policy specifically states that "'nice post, thanks' type comments from "Buy LCD TV" posters will be marked as spam, so it is in your best interest to contribute to the conversation as a real person, if you are looking for some link love."
I have no desire to reward  cheap traffic seekers who contribute nothing of value.
Even if the comment does get approved, it's too much of a crap shoot to hope that people who are interested in doing business online might also be planning a wedding or in the market for a new TV.
So, if you want traffic to a site about weddings, go post a comment on a site where the topic is about weddings.
Having said all that, a real affiliate marketer can drive traffic to their wedding site from a blog about affiliate marketing, but they have to be smart about it.
"Smart" means:
Building credibility by contributing value to the conversation. If your site is about weddings and the post is about traffic strategies, share an experience related to the topic and invite folks to look at a relevant page on your blog.
Using your real name or a pen name. Not just a first name either. You gain additional credibility for your blog comment by including your real FULL name. Even something like Super Affiliate Wendy W. is more likely to encourage visits than "cheap shoes".
Having a Gravatar. Want even more credibility? Get a gravatar to show alongside your thoughful comment.
All that said, remember that you want traffic that stays on your site.
The fellow who pops by "acia berry wonders" from a bizop blog won't help your bounce rate if he only sticks around for a half a second.
So take the time to post real comments using your real name and point to content on your site of real value to your visitors.
---