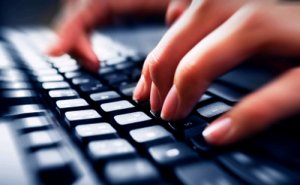 If you run a local business, there's no avoiding the fact that content marketing should be the central focus of your overall marketing plan.
One statistic that's bandied around claims that 19% of internet users get their news about what's happening in the world from social media channels.
Social media is an umbrella term that includes networking sites like Facebook and Google+, microblogging sites like Twitter, and ordinary blogs, which are still widely read despite the burgeoning popularity of the big social networking sites.
Content marketing applies to all these channels, and in our digital age, local businesses must leverage digital marketing in order to build interest in their products or services and engage with customers and prospects.
Compete for Attention
When it comes to digital marketing, businesses must compete for attention.
To give your business a platform to be discovered and then heard by the people who will be most interested in your products or services, you need to know your audience.
Let's say you run a pet supply business. On your Facebook Page, you could hold contests for your fans, such as the cutest dogs, or cats wearing hats. Using your Twitter feed, you could engage your followers in a discussion about #DogCare or #CatCare.
On Google+, you could create a Hangout for people interested in clothing for dogs. You could create videos for YouTube which feature behind-the-scenes looks at your business. The possibilities are limited only by your imagination.
Keep Up With Trends and Developments
Remember MySpace?
Some people probably don't.
At one time, MySpace was nearly as popular as Facebook.
That's just one example of why you need to keep up with trends and developments. Keeping your technological sophistication sharp will handsomely pay off in that you won't find yourself mired in a digital wasteland which people no longer visit. Change can happen quickly in the technological arena.
The last couple of years have given rise to an explosion in mobile computing with the increasing popularity of smartphones and tablet computers.
Do you have a mobile-friendly version of your blog?
Have you considered creating mobile apps that customers and prospects can use to access your business' digital content or its products and services?
If you're gearing digital content only to people who have desktop or laptop computers, you're missing out on a gigantic potential audience.
Create Fresh, Original Content
The lifeblood of content marketing is fresh, original content.
Not only does it keep people coming back for more, but it's also potent search engine juice. Google loves fresh original content, and recent algorithm updates have resulted in original content being rewarded even more.
To market your local business, strive to create fresh, original content that's relevant to your audience, which intrigues, piques interest, and encourages people to keep coming back for more. Better yet, create content that encourages people to engage with it by, let's say, liking or commenting on Facebook, commenting on your blog, or retweeting or replying on Twitter.
The more people who engage with your content, the larger audience you can build for your business and its products or services. This translates into higher placement for your business on Search Engine Result Pages (SERPs) when prospective customers use search engines to search for a product or service you offer.
Keep Blatant Advertising to a Minimum
Remember to keep blatant advertising to a minimum across your social media channels.
Digital marketing that builds audiences isn't about blatant selling. Spam has been a turn-off since the earliest days of the internet, but people are especially sensitive to it these days. Take Twitter, for instance. It's okay to send out the occasional promotional tweet, but try to keep to a ratio of 95% relationship-building tweets to 5% promotional tweets. People are sick and tired of being sold to. People do, however, like to talk and share, and that's just as true online as it is offline.
When you remember that social media is about being social, you'll create sincere content that is compelling, not annoying, and your sincerity and reputation for thoughtfulness and responsiveness to your customers and prospects will result in very good public relations for your business.
Bottom line takeaway: the best content marketing advice for local businesses is to engage people. Social media is "social" for a reason. It's meant to be a conversation, not a monologue.
When you engage with your followers and fans, you get them interested not only in your content, but also in your products and services. Loyal followers and fans often become loyal customers, and when they enjoy both your content and what your business has to offer, they will often recommend your business to their families and friends.
Digital content is shareable, which means it could even go viral and be seen by thousands of people in a very short amount of time. Get people interested in what you have to tell, and chances are excellent that they'll also become interested in what you have to sell.