I like to search Google 'smart' as I expect most of my (and your) blog readers do as well.
When I search Google for a product type, I limit my search to articles posted within the last year.
The following graphic shows results for a recent search when I was researching water filter pitcher dispensers for our RV.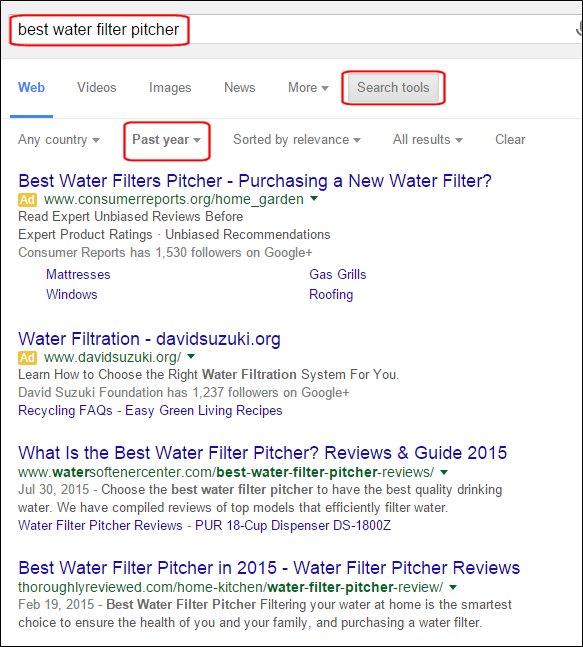 My search was for 'best water filter pitcher', but I also selected 'Search Tools' and then selected 'Past Year' to avoid reviews that were posted back in 2012.
Three years is HUGE when it comes to technological innovations in so many areas, and I hate wasting my time looking at old reviews. Seriously, when I didn't add the time frame element, reviews from 2012 came up in the search results.
Note: Your Google Search results could be different depending in which country your are located and which Google engine you are using.
So, assuming your preferred audience is likewise savvy when it comes to finding material relevant to your niche, wouldn't it make sense to let Google know when your older articles and reviews have been updated so that those articles come up in those searches?
For example, my article 12 Ways to Make Money Online was written and initally published over 6 years ago, on February 2nd, 2009.
But when folks arrive at the article, they see that it was last updated on August 30th, 2015 (according to the graphic below… it may get revised again before you read this!!)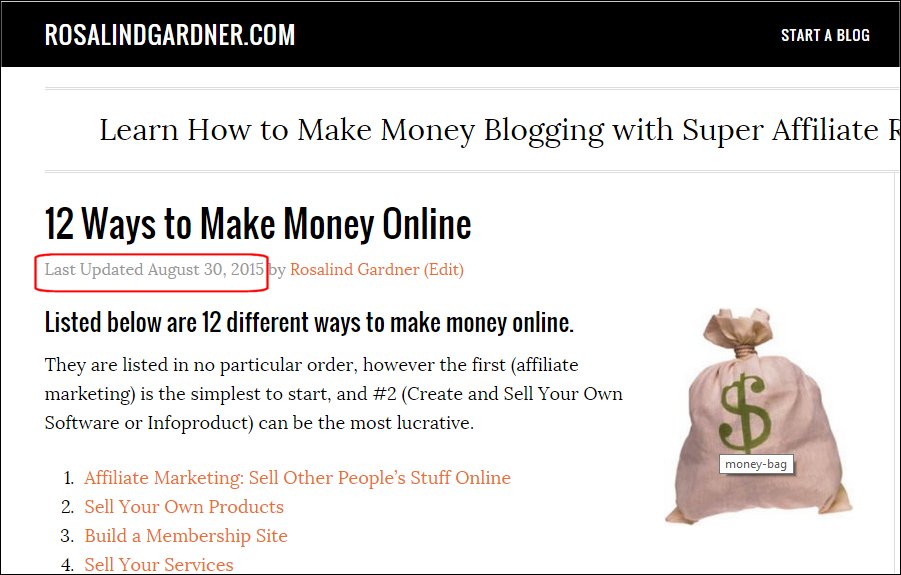 To insert the last updated post date using Genesis on a WordPress blog is super simple.
I went to Genesis > Simple Edits and inserted "Last Updated by Rosalind Gardner 16 Comments " in the blank beside Entry Meta (above content).

If you are using another WordPress Theme system, please consult with their support files, OR, visit the WordPress Codex to learn about Function Reference/the modified date.
Did you enjoy this article? Please share it with others! If you have a comment or question about these WordPress tips, please leave a comment below!
Cheers,