Report the thieves and be persistent…
Awhile back I wrote about "Three Ways to Catch Affiliate Site Rip-Off Artists".
Well, below is an example of what happens to affiliates like Tony Munoz when they're caught and reported.
Affiliate SuspendedYou received this message because you were most likely directed to Adult FriendFinder by one of our affiliates who was using marketing or advertising methods that are in violation of our Terms of Use and Affiliate Agreement.

The person who directed you to our site has been banned from doing business with us. We apologize for any inconvenience that the offending activity may have caused.
How did I get him suspended from the program?
I contacted the affiliate manager at Friendfinder and laid out my case, including specific examples of where the site copied mine.
In this case, that wasn't hard to do – the thief had copied my whole site.
I also included WhoIS.net information which proved that my site had been online for years before his was ever registered.
But it gets better…
Here is a graphic image of where Tony the Thief's site is today.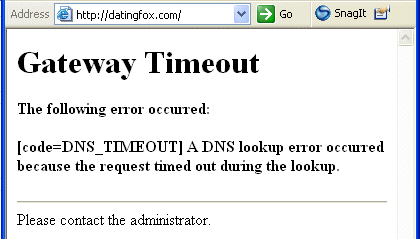 Aaaaaaah….. TOO bad for Mr. Munoz, the affiliate site thief.
I contacted Yahoo!, where his site was hosted, and told them about his theft. They took action.
However, I expect the creep will be back, as this is the second time I had to contact his ISP to have him shut down.
So, if you click the image above and see that Tony Munoz's "DatingFox" is back in business… please let me know, and I'll do the same for you if and when I catch someone stealing your work.
Thanks and Cheers,
Ros
P.S. Don't bother complaining to Commission Junction about affiliates who rip off your work. Here is the response I received 96 hours after filing a complaint with them:
Dear Publisher,

Unless this publishers is directly violating one of our policies, we do not pursue this type of issue.

Thank you, (no name).
I guess as long as CJ is making money, they don't care how it's being made.
My advice… contact the individual CJ merchants and report the thief. Some will help you out. Some won't.
Be persistent.