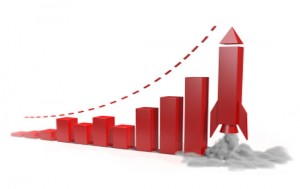 I'd like to start by sharing a backlinking strategy that works even after Google Panda and Penguin updates, but before that there are some vital things that you must pay attention to.
As we all know, building links in a natural manner is more important than ever, right? So below are a couple of things that you must consider before building links;
Vary your Anchor text: Personally I would recommend that you vary your keywords by using secondary and tertiary keywords in the same market i.e. (forex trading tips, automated forex tips, forex signal trading) your primary keywords should be between 30-50% of the time utmost.
Do other several things on top of it for maximum results: Examples, you should guest post on popular blogs, social media marketing and video marketing. When you do the above, the backlinking strategy that am about to reveal will produce maximum results.
Ever since the niche site I created for the EBusinessReviews started to rapidly climb the ranks of Google and Yahoo search engines and eventually landing on the first page of Google. Since then people have been asking me, which methods I've been using to climb the ranks of Google. I'm going to explain the strategy I've been using.
The backlinking strategy that I'm using involves two layers of backlinks. I would call the layers as Anchor layer and indirect layers.
Anchor Layers
The Anchor layer involves of a few parts which links directly to your money sites. These include;
Top web 2.o properties (Highly Recommended)

Guest Blogs that are related to your niche (The Best and Super)

Top Article Directory Submissions (Average recommended but don't ignore it)

Links from Linkvana.com (But be very careful with blog networks) Not recommended
Indirect Layers
Indirect layers, you create massive amounts of backlinks which link directly to your anchor layer. These links should not point to your moneysite, OKAY? The indirect layers consist of;
Mass Bookmarking submission
Mass article submission specifically (Submityourarticle.com)
The use of Senuke.com (Warning don't link directly to your site, link directly to your anchor layers)
Let me walk you through the process:
Rule 1: Write 4 epic content
I love to have control of what's written and what's published online. At this point make sure you write 4 highly content which should be around 400-700 words in length. These 4 articles will be posted to your anchor layers as discussed above.
Warning: If you want maximum results, make sure you write epic content for the first layers, if you don't do this, you'll not get results.
Rule 2: Again write 2 original content for spinning
I know not everybody likes the idea of content spinning this is because some people view it as spammy and others view it as dangerous especially with the recent Google updates.
Personally I respect that, but to some extent am okay with this method, this is because when am spinning I'm making sure that the content I submit is perfect good and totally unique.
Rule 3: Submit the 4 original content to Anchor Layer
In this step you'll be submitting the 4 original content to your anchor layer i.e. to
Article sites preferably Ezinearticles.com

Squidoo.com or Hubpages.com
Make sure your target keywords link directly to your money site.
Rule 4: Indirect linking to your sites
In this step, you'll be creating massive backlinks to your Anchor sites as discussed above. The tool that you should use is SubmitYourArticle.com this is because it's proving to work quite well.
You'll submit spun content to the said article submission tool for maximum results. To help boost the authority of your niche site, I would recommend you use SocialBookmarkingdemon tool.
Rule 5: As usual rinse and repeat
Any questions or comments?