Do you understand your blog reader demographics?
Are you blogging day in and day out and still not earning enough to cover your hosting fees?
There could be one really good reason for that — your content may not appeal to the visitors your blog attracts, i.e. your blog reader demographics.
For example, if you are blogging about 'how to play guitar' and targeting all the right keywords to get traffic for that keyword phrase, you could do yourself a grave disfavor if the music you highlight is classical and your visitors are all teenage males interested in Lady Gaga's music, i.e. your blog doesn't appeal to your blog reader demographics.
Here's another possibility…
Your desert gardening blog is primarily attracting visitors from Canada's zone 3 where we can't grow palm trees for love nor money.
Or, goodness forbid, your mommy blog is pulling in the teen voyeurs with too many articles on breast-feeding.
So how do you get to know your audience?
Well, you could check your Alexa stats…
According to Alexa:
"Netprofitstoday.com is ranked #23,036 in the world according to the three-month Alexa traffic rankings. Compared with all internet users, the site's users tend to be over the age of 45, and they are disproportionately childless women browsing from home who have attended college and have incomes under $100,000. The time spent in a typical visit to this site is approximately three minutes, with two minutes spent on each pageview. Approximately 14% of visits to it are referred by search engines. Netprofitstoday.com has been online for at least six years."
Or, you can check with Quantcast which in part suggests that following demographics for NetProfitsToday.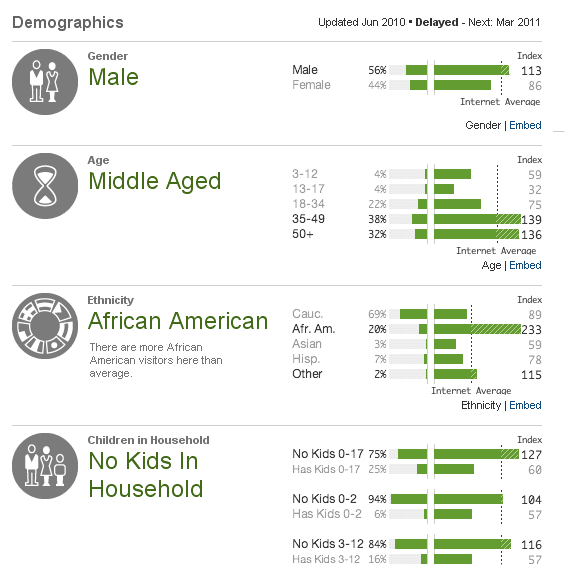 Notice how those two 'authorities' don't agree?
What's the BEST way to find out about your readers?
Communicate with them! Ask them who they are to determine what they need and really want from you.
Here are 7 polls that ask you questions about yourself using the WP-Polls plugin for WordPress which is super simple to install and use.
(See my guesses about your answers near the bottom of this post).
[poll id=11] [poll id=12] [poll id=13] [poll id=14] [poll id=15] [poll id=16] [poll id=17] [poll id=18]
OK, my bets are that the predominant answers to these questions are as follows:
Mostly male by about 5%
Between 35 and 45
Living in the U.S.
1 – 2 Years of IM experience
Making a little money online
Classifying themselves as beginner
Caucasian by a slight margin
Am I right?
Please respond to the polls honestly. It's better to be 48 than 45. 🙂
Thoughts? How well do you know your audience? What methods do you use to learn about visitors to your blog? Do tell!
Did you find this post about blog reader demographics informative and useful? If so, please share it with others! If you have a comment, question or suggestion, please leave a comment below!
Cheers,