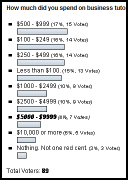 Back in January, I added Polls to this site and have since tried a few different platforms.
For the first poll, "What is Your Biggest Internet Marketing Challenge?", I used a third-party service called Vizu. Because I chose the free poll option, the polls shows a 'Powered by Vizu' link at the bottom of the poll. As the poll is hosted on their server, that's a fair deal. However, because I don't like sending traffic off-site if I don't have to and have a mountain of bandwidth with which to play on my server, I kept looking for a self-hosted polling plugin for WordPress.
I came across the Democracy plugin, which was really easy to set up and deploy for my "How Many Web Sites Do You Operate?" poll. IP addresses can be logged to stop multiple voting and you can store an archive of polls. What you cannot do with the Democracy plugin however is run more than one poll at a time, so I kept on looking for a self-hosted polling option that allows multiple polls.
By the time I wrote the 3rd poll – How Often Do You Post to Your Blog? – I had found Lester Chan's WP-Polls plugin, which along with his WP-Polls Widget, adds an AJAX poll system to your WordPress blog that lets you run multiple polls.
WP-Polls lets you customize the look and feel of your polls using templates and there are number of other options from which to choose. The software allows users to select more than one answer and you can assign a maximum number of answers. You may also assign a start and end date for your poll, so if you get really ambitious, you can write a number of different polls to be queued up and published later to your blog.
The only additional feature that I would like to see in this plugin is a fill-in-the-blank option for those instances where the answer hasn't been provided and readers would like to add more information. Other than that, WP-Polls is pretty much the perfect poll option.
Are you using WP-Polls or other polling software on your blog that you especially like (or dislike) and would like to mention? Please leave a comment and let others know!
[tags]polling, polls, plugin, WordPress, blog[/tags]