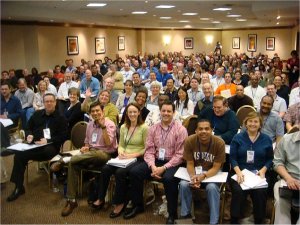 Want to speed up your studies about online marketing? How about build your network in the online space?
Well, there is no better place to do either or both than at an industry conference.
Listed below are a few of those that I can heartily recommend as worth your time, effort and resources.
Underground Online Seminar
About
: The Underground Seminar by Yanik Silver is celebrating it's 9th year in 2013. What makes this conference so special is the fact that there is no speaker re-hash, i.e. he has found an *ALL-NEW* group of "under-the-radar" six-figure, seven-figure…and even 8-figure earners who are willing to share their online marketing strategies. This is undoubtedly my favorite conference in the internet marketing (as opposed to affiliate marketing) realm.
Where
: Washington, DC
When
: February 28th – March 2nd, 2013
Register now for the
Underground Online Seminar
Performance Marketing Summit
About
: This one sounds like a real winner and I'd love to attend, but I already had plans for this timeframe. What makes this event special? No Exhibit Hall. No Meet Market. Just 200 people in one room, for one powerful, productive day. How refreshing! From the people who bring you Affiliate Summit (see below).
Check out the agenda!
Where
: New York City, NY
When
: March 12, 2013
Register for the
Performance Marketing Summit
today
Social Media Marketing World
About
: The conference includes more than 49-expert led sessions from the biggest names in social media marketing. It takes place at the waterfront San Diego Marriott Marquis & Marina. It includes a private networking cruise on the largest private yacht in Southern California and much more! Presenters include Guy Kawasaki, Mari Smith, Chris Brogan, Sally Hogshead, Dave Kerpen, Michael Stelzner, Jay Baer, Amy Porterfield, Mark Schaefer, Jesse Stay and experts from Walmart, Zappos.com, Sony Electronics, TaylorMade Golf and SAP; as well as Brian Carter, John Jantsch and Mitch Joel–just to name a few. Together this team of "who's who" in social media will help you succeed using practical tactics.
Where
: San Diego, California
When
: April 7, 8 and 9, 2013
Register now for the
Social Media Marketing World
Affiliate Management Days
– Mastering the Management of Affiliate Programs
About: Affiliate Management Days – Mastering the Management of Affiliate Programs is the must-attend event for affiliate managers who are responsible for their company's affiliate marketing strategy, management and operations. Whether you have an existing affiliate program or you are creating a new initiative, AM Days offers you the most valuable insight into how other online retailers are successfully implementing and managing their affiliate programs.
Where and When:
San Francisco, California – April 16 – 17, 2013
London, England – May 15 – 16, 2013
Check out Affiliate Management Days
Affiliate Summit East 2013
About
: Affiliate Summit the premier conference in the affiliate marketing industry. Shawn Collins and Missy Ward founded the conference in 2003 with the purpose of providing educational sessions on the latest industry issues and fostering a productive networking environment for affiliate marketers… and they have succeeded remarkably well in doing so! I've attended and spoken at this event a number of times and highly recommend it to those serious about affiliate marketing as a business.
Where
: Philadelphia, PA (Pennsylvania Convention Center)
When
: August 18-20, 2013
Learn more about
Affiliate Summit
.
SES Conference and EXPO Series
About: SES is the leading global event series about search and social marketing. Focusing on tactics and best practices, SES events bring together thought leaders and industry experts—from private consultants to representatives from the search engines themselves—to provide YOU with the skills to succeed in online marketing.
Where and When:
SES London February 18-21, 2013
SES New York March 25-28, 2013
SES Shanghai May 29-30, 2013
SES Toronto June 12-14, 2013
SES San Francisco Sept 10-13, 2013
SES Hong Kong Sept 2013
SES Berlin Oct 2013
SES Chicago November 4-7, 2013
SES Singapore November 2013
SES New Delhi December 2013
Get more information on a SES Conference and EXPO Series event near you!
Stay tuned for more!
Comments, questions or suggestions? Please leave a comment below!
Cheers,