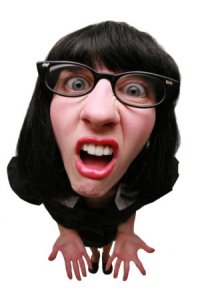 The 2nd point made in the "Is Blogging Right for You?" post was…
Do you have a message that you want to share on an ongoing basis? Most highly successful blogs are created around a central theme, i.e. an activity or topic of interest such as travel, food, parenting, personal growth, etc. Articles posted are almost always relevant to the central theme.
Some blogs on the other hand just seem to lack a point. OR, the point isn't immediately apparent.
And when visitors must ask "What's this blog about?", chances are they won't stick around long enough to find out.
If your blog is less than what you consider successful, i.e. unprofitable — it could be that your blog just doesn't get your point across soon enough.
Here are 7 ways and areas in which to make your point clearly.
Tag Line: If you registered a domain with a funky memorable name like Coodlez — which otherwise has no meaning — your tag line should save the day. The tag line should state your site's objective. For example, the tag line for this blog is 'Helping REAL People Make REAL Money Online' and it is included right below the site name in the header graphic.
Header Graphic: Run a food blog? Put a picture of something yummy in your header graphic.
Breadcrumb Trail: Breadcrumb navigation is the line that shows a page's location in the site hierarchy. Look right above the title on this post – that's the breadcrumb. You can see exactly which topic this post falls under. WordPress themes such as StudioPress and Thesis have breadcrumb trails built right into them. If yours does not, consider adding the Breadcrumb NavXT plugin to your blog.
Category Titles: With cutsey category names like 'Bait' and 'Hook 'em', someone might think they're on a fishing site rather than the dating site they wanted, especially if you've used the fishing theme in your header graphic (see above). Titles that are relevant to the topic help your readers find what they want faster.
Category Icons and Thumbnails: Visitors usually land on your homepage. Depending on it's layout, it might be worthwhile to include either category icons or post thumbnails for that 'picture is worth 1000 words' effect.
Post Titles: I know you want to entice your visitors to drill deeper into your site. Post titles that inspire curiosity are great, but 'Buttery Goodness' doesn't inspire thoughtful readers to click the link as much as 'Absolutely Devine Buttercream Frosting Recipe'. The latter not only tells them exactly what the post contains, but will also have their mouths watering before they click the link.
About Page: Last but certainly not least is your About US page. Do you have one? Does it explain your blog's objective? Does it tell your readers why you're in a position to help them? You should and it should. Not convinced? People do visit them. On 2 of my blogs, the About page is the 2nd most frequently visited page. From there I give them links to where they most likely want to go.
Not only does making your point clear help your visitors use and discover the gems on your blog, it also helps tremendously with search engine optimization, which as you know — brings MORE visitors to your site.
Let's try not to confuse them!