I get link exchange requests almost daily.
Although most follow a similar pattern, many are worded more politely than the example shown below and include both my name and some 'nice' comment about my site by way of introduction.
The blank space to the left of my URL makes it obvious that this is just a quick fill-in-the-blank and get-it-out-there request.
Greetings,

I was looking over your website, https://rosalindgardner.com/ and was wondering if you would be
interested in exchanging links. We currently have over 14,000 pages
linking to our home page, and are always looking for more quality
websites to exchange links with.
14,000 QUALITY sites! Wow! He's GOOD!
Then he proceeds to tell me about the benefits of link trading.
As you may already know, having your link on another website, especially one with
a high link popularity, will greatly increase your search engine rankings. This is followed
with an increase in traffic, and thus, more sales.
What I KNOW is that we LOSE sales when we link to other sites for no good reason other than the link, and that there are much better ways to gain search engine rankings and traffic. What I also KNOW is that reciprocal linking is for the most part, a HUGE waste of time.
Then he tells me where I can go…
If you are interested in a link exchange, please visit our website at:

http://www.blah-blah.ws
I'd like to tell him where to go.
Quite frankly, the only kind of link trading I do nowadays is blog link trading… and never by request. If I like what they have to say, I link to it… and I've noticed a lot of links coming into my blog for the same reason.
I find this a very valuable source of traffic and credibility – unlike his site which I visited for a lark.
This was his excuse for a 'links' page.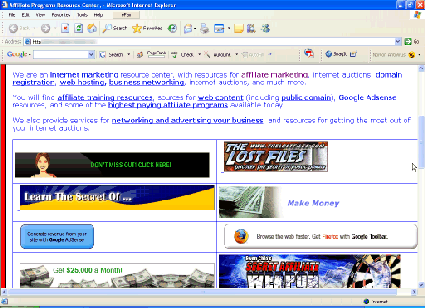 My point, exactly.
Cheers,
Ros
P.S. If you want to learn how to do link exchanging properly (as well as other techniques to improve your search engine rankings), check out Brad Callen's SEO Elite.