NOTE: Authorship markup is no longer supported in web search.
Creating a blog and putting content on it can be done for multiple different reasons, but one thing we all want for our blog is for it to be ranked as high as possible. Well, Google decided to help us out with that and gave us a way to get ranked higher, increase our authority, and get more clicks. It's called Google Authorship. We are going to cover the benefits of properly using it and provide some tips to get better results.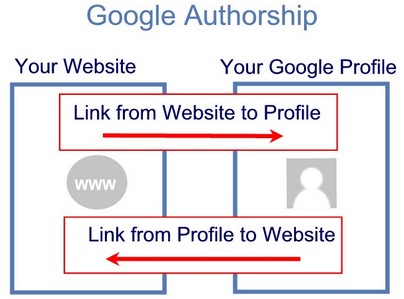 What is Google Authorship?
Google Authorship is a tool that links the content you create to your Google+ profile. It helps to verify that you are the creator of the content and also provides you will multiple benefits that can help out with a number of different things.
Increased Authority
Since all of the content you create will be linked directly to your Google+ profile, Google will know what your niche is and what you write about. Many people don't think that it's really important to keep Google informed, but since they control the majority of all search engine traffic, we should all be trying to do whatever it is they need to get us ranked higher. After a while of posting content, Google will know what type of stuff you write about and will be able to tell you are an expert within your niche, increasing your overall authority and increasing your rankings.
People will also be able to associate your picture in the search engine results and once you have enough high ranked content, people that are interested in your niche can easily tell that the content was written by you and will be glad to check it out.
Better Click Through Rates
When people are looking for content about a specific niche, they tend to try and keep getting all of their information from the same reliable source. Like I briefly mentioned earlier, after you sign up with Google+ and authorship, whenever you post content and it gets ranked, your profile picture will be posted next to your links.
People are much more likley to trust you once they have seen your picture associated with your niche a few times, which then leads them to click on your links for their information before they even consider a different link. Even if you're not ranked first, you will still get a lot more attention and clicks than you would if you weren't a part of Authorship.
Higher Rankings
Being a part of authorship doesn't automatically help increase your rankings, but overtime you will see what power it truly has. Since it helps increase your overall authority and provides you with more clicks, your traffic and positive feedback will be much higher. This itself will increase your rankings, but there are SEO specialists that argue about whether or not Google gives content associated with Authorship higher priority. Meaning that it takes much less work for someone signed up with Authorship to rank higher than someone who never signs up. While this is just a theory, there have been many cases where SEO specialists try and prove it to be true. Either way, Authorship will help you rank in the long run.
Optimize Your G+
Optimizing your Google+ account should be your first priority. For your profile picture, it is important to use a quality headshot of yourself. People will be able to easily relate and connect with you once your picture starts to become popular. You are going to also want to make sure that you tag yourself within the profile picture. This allows your name to appear when you scroll over the image.
G+ allows you to add important links to your profile, so make sure to link back to your blog, website, and other places you might be writing on. After this is all finished, every piece of content you post that is linked to your profile will appear in search engine results with your picture next to the link.
There are plenty of other reasons to use authorship and optimize everything properly, but these are just a few of the main aspects to consider. Authorship is a free tool, so you might as well give it a try and see if it helps you like it has helped countless of other bloggers.